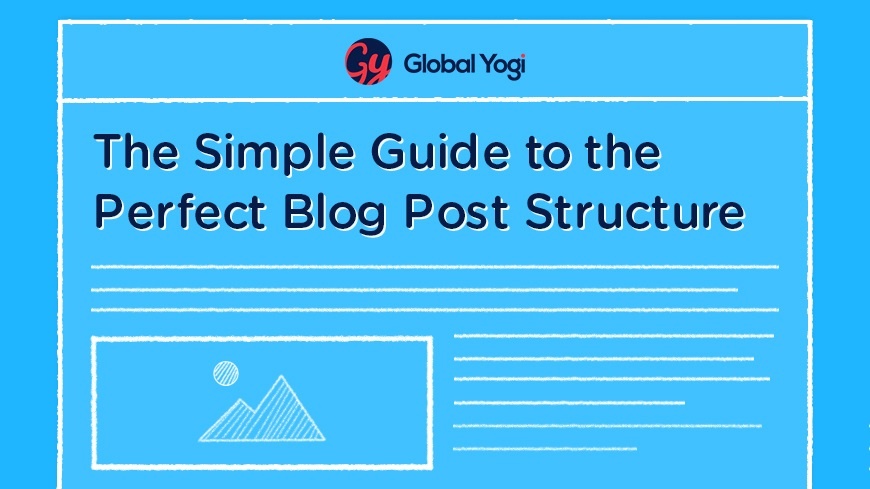 It's hard to hold your reader's attention if your blog post is boring.

Truth is, you might be the best writer in your industry and know how to bring excitement out of a boring topic with your content, but how you structure your thoughts and ideas matter—it controls whether your blog post will be read, shared, linked to, or ignored. Overall, your success as a blogger will be hinged on how you approach it.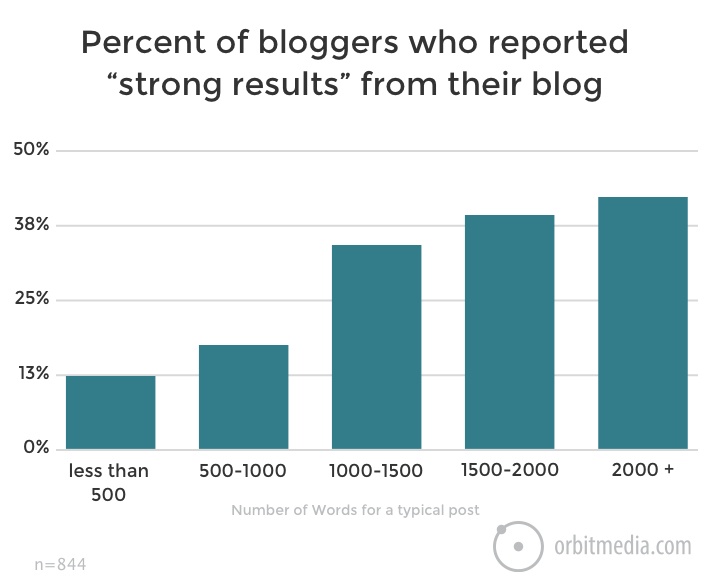 Before we get into the steps for creating a powerful blog post, let's discuss the various structures that your post can have.
What is the best blog post structure?
That's a hard question. Because there's no best answer to it. Essentially, the best structure should suit your market, and appeal to your prospects and customers.
This is one of the reasons why it's a good move to study and know your audience. Why? Because, then, you're more equipped to serve them better.
More importantly, the best blog post structure should benefit both the writer and readers. Here are a few of the benefits:
It makes you more productive.
It makes the life of the readers easier.
It allows you to create more content.
Though there are several blog post structures that you may have come across, there's one that I created myself—I also use the same structure to create content for my clients and the results have been nothing short of magical.
To get you on the right track, I recommend you use the blog post structure which I refer to as "The Storyboard."
"The Storyboard" Blog Post Structure
Every single day, I use the storyboard structure as a guideline when research, creating, and publishing blog posts.
The focus is on the reader—more or less, you're holding the reader by the arm and walking them through the entire process—it's always fun when readers can scan posts initially and later get back to read every word on that page. It couldn't have been possible, if the structure was boring.
The storyboard blog post structure is a detailed, easy-to-use, and a proven blog post structure that boosts engagement and traffic. Could this be the reason why our organic traffic grew by over 237% in 2016?
Not entirely, but how we structured our posts play a key role. Or what do you think?
The Storyboard blog post structure has 11 elements: starting from the headline down to the call-to-action (CTA). Let's discuss the different elements in detail:
1). Headline
The headline is the main element of your blog post structure. It appears at the top.
The headline is the first thing that a visitor looks at. According to Brian Clark, founder of Copyblogger Media, 8 out of 10 people will read your headline. Headline in a blog post has two major tasks to achieve:
1. If the main headline is used as the title tag, it's viewable in search results and helps generate clicks. A persuasive and catchy headline will drive more clicks.
For example, when you enter "traffic generation strategies" into the search engine box, the title tag (which most bloggers use as the main headline) is the first thing you notice in the search results: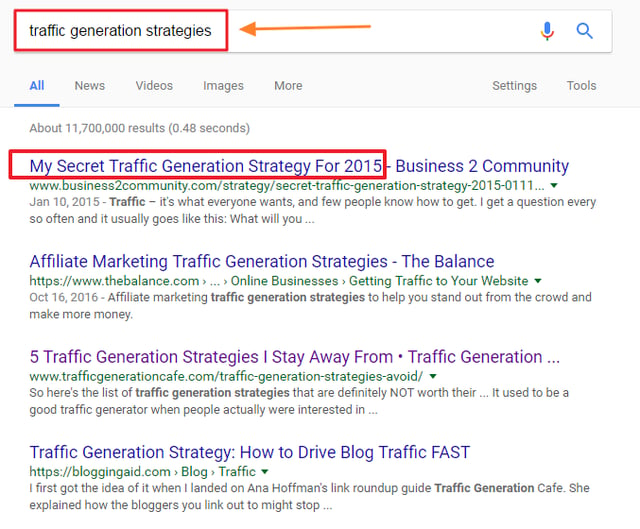 2. It's the first element of your blog post and potentially the first thing that a visitor will read. Based on how well-written and catchy the headline is, a site visitor will decide whether to read on or leave.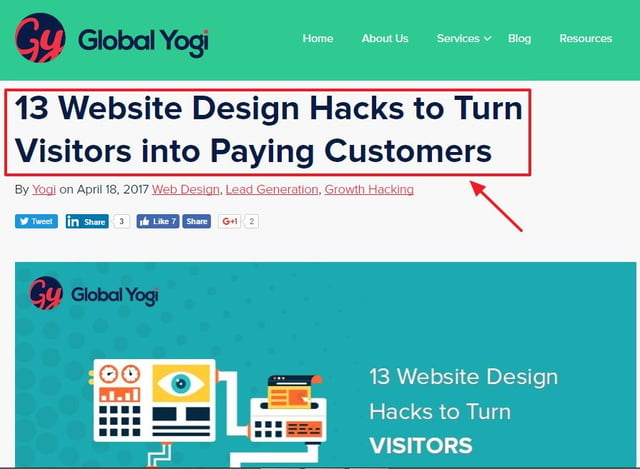 Statistics show that a headline is worth 90% of the advertising dollar. This is mainly because the organic CTR is driven by the headline.
A perfect headline should have four U's:
1. It should be unique.
2. It should be useful.
3. It must be ultra-specific.
4. It must convey a sense of urgency.
Here's an example of a perfect headline from Neil Patel.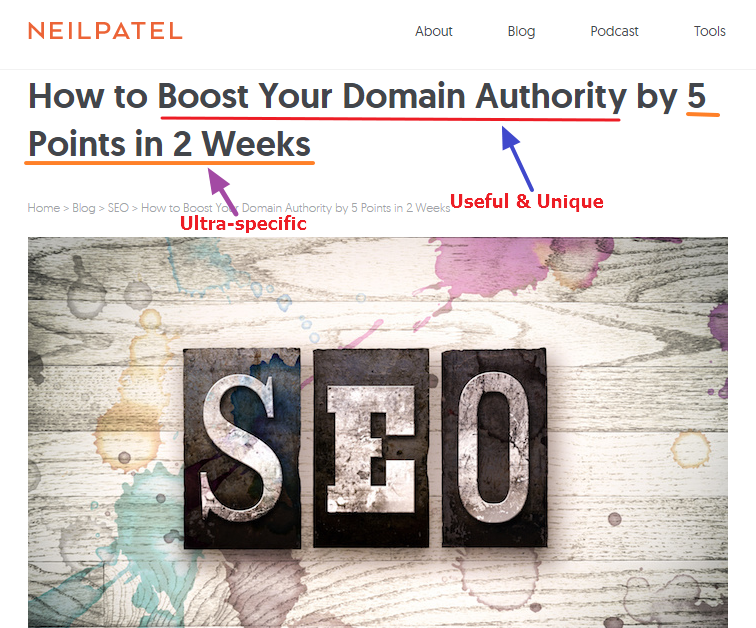 To get started, you can follow these best practices to make your headlines better:
Include numbers.
Use a power word (e.g., boost, smart, powerful, surefire, easy, deadly).
Make the headline persuasive.
Use adjective(s).
Start with your main keyword (Brian Dean recommends this).
Pro Tip:
The headline is one of the most crucial parts of any blog post. It must be compelling, irresistible, and catchy. Use
CoSchedule Headline Analyzer
to make your headlines powerful and position it to drive traffic, inbound links, and social shares.

2). Hook
Hook is usually the first part of the introduction. It's not enough to attract readers through your catchy headline and leave them hanging. Start your intro (also referred to as "lede" or "lead") with a bang.

Jon Morrow is known for his punchy introductions. Take a closer look at his all-time post that generated over 1 million reads: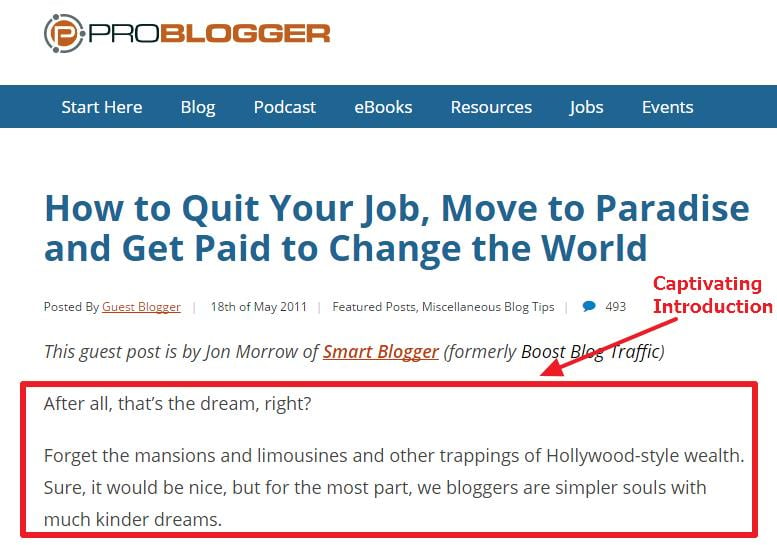 The purpose of the hook is to nudge readers into the rest of the post. If you believe that your content will change people's lives, why not do all you can to get them onboard?

It's your responsibility to sustain the engagement and cause readers to continue reading the blog post.
There are several ways to create a perfect hook right in the first paragraph of your blog post.
Ask a worthwhile question.
Share an interesting or shocking fact or statistic.
Share a personal story.
Put the end first.
Start with a success story.
Here are a few examples of perfect hooks.
This is how to create a hook with a success story.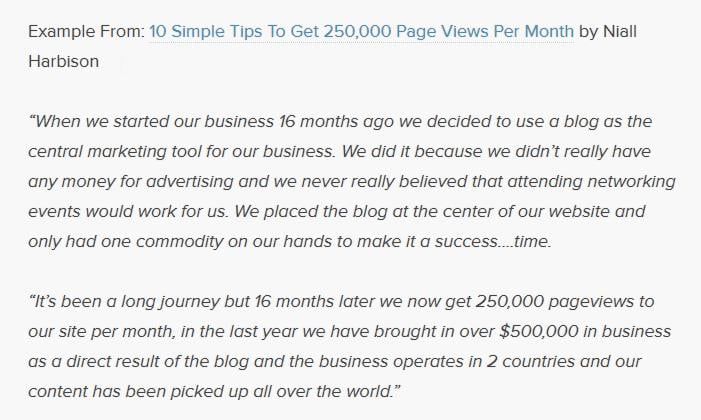 Here's an example of how to share something personal to create the hook.

Pro Tip: The best hook is one that directly talks to your readers and highlights one of the biggest challenges they're facing. This is what encourages them to read the whole blog post.
3). Photo
The Storyboard blog post structure thrives on visuals. Visuals are powerful tools for creating the perfect blog post that engages readers. We're 90% visual beings, and the human brain processes visuals 60,000X faster than text.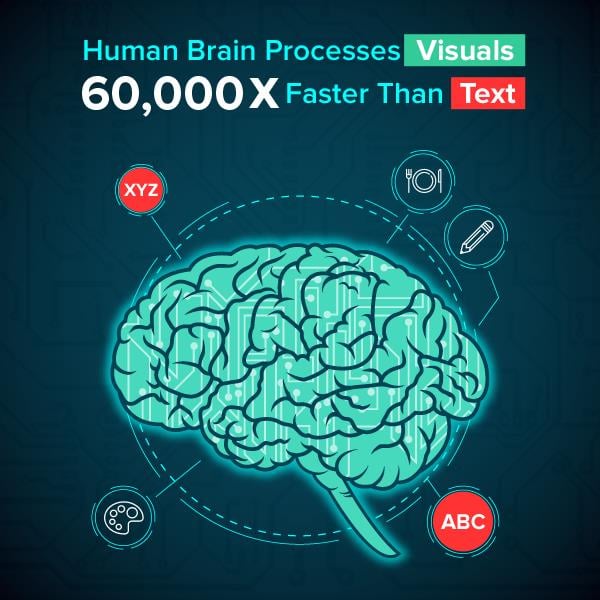 You can use photos in your introduction or as a featured image – this is usually the main photo in your blog post. But don't be limited by the word "photo" as used here.
Photos could be in the form of an infographic, charts, screenshots, illustrations, memes, animated gifs, vector graphics, icons, logos, trademarks, and more.
According to HubSpot, a perfect image for your blog post should have the following ingredients:
You should have the right to use the image.
It should be relevant.
It must be compelling.
It must be high-quality.
It should be optimized for all the devices.
PRO TIP: Stock photos are not ideal for your blog posts. Why? Because, the same photo you have on your blog can be found in 100+ blogs around the world. Since blogging is competitive, you need to stand out with your own photos.
However, there's good news.
If you don't have the time, skills or money to get custom photos for your posts, the best approach to using stock photos and other commercial images (which you have rights to use) in your blog posts is to use text overlay to add unique texts, and custom to your brand.
They also become more appealing with text overlays. Here's an example of a blog post with a relevant photo and text overlay.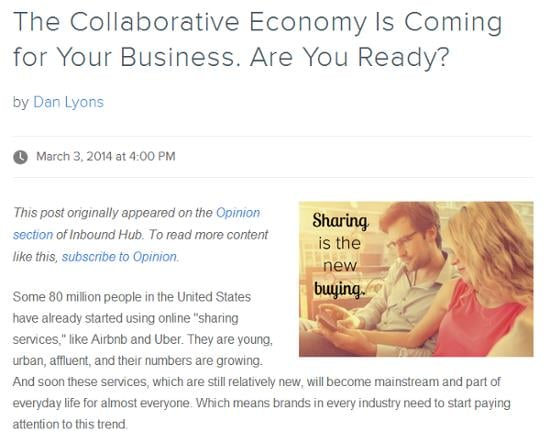 Pro Tip:
The image on your blog post should be optimized so that it loads quickly.
Statistics
show that 47% of readers can only wait for a maximum of two-second for an image to load. Anything that takes more than two seconds to load is a disaster.
4). SEO
One of the distinguishing factor of The Storyboard blog post structure is the ease of optimization, which makes it possible to get the post ranked in Google quickly (not overnight, though).
Truth is, your blog post should be optimized for users and search engines. This is an element that runs throughout the blog post.
There are 5 things that you must take care of to improve the SEO of your blog post. Let's see if you're doing them already.
Use your primary keyword in the headline. The title should begin with the keyword.
Use LSI keywords(i.e., synonyms: web traffic/online visitors) throughout your blog post.
Use your primary keyword in the first 100 words.
Use keyword in the URL.
Use keyword in the meta description.
Here's an example of a perfectly optimized blog post. The page is targeting the keyword "On-page SEO" and it has been used at the start of the title, in the URL, and in meta description.

Pro Tip: The Google's SEO Starter Guide is your best friend. Follow the instructions in this guide to make sure your blog posts are fully optimized for search engines.
5). Formatting
A perfectly formatted blog post has all the important points highlighted that allows readers to skim the post if they're not ready to read every single word on the page.
Yes, not everyone will read your post. Some people are there to skim and get the main point they want. Personally, I skim blog posts from my favorite writers. But occasionally, I find time to read everything.
When you tell a story and adopt The Storyboard structure for your posts, people will read it.
But wait, you can also help your readers consume your blog post by formatting it properly. You can follow these best practices to format your blog post like a pro.
Use subheadings throughout the content.
Use short paragraphs.
Use bullets and lists.
Use captions for images to describe them.
The idea is to make your blog post great for both readers as well as scanners. Here's an example of a well-formatted blog post.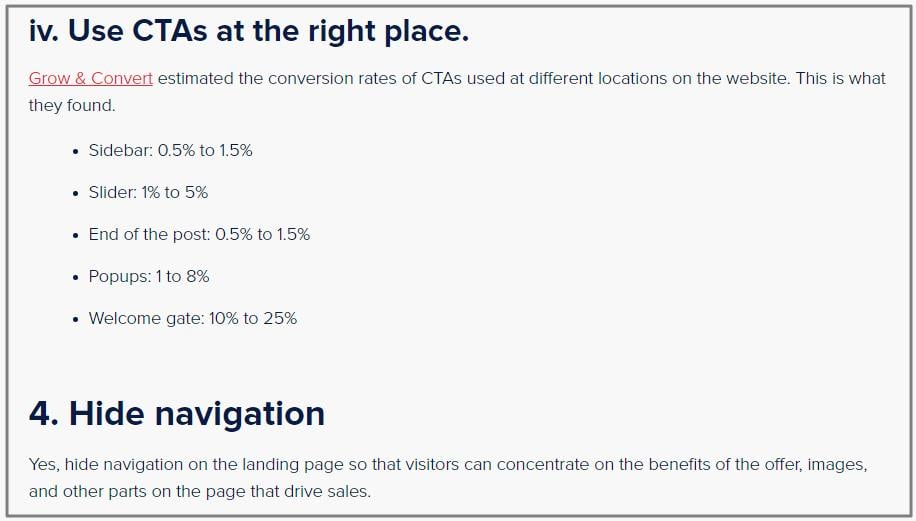 Pro Tip: Make your blog posts as easy to read as possible. A simple rule of thumb is that if readers have to use Ctrl + F to find different pieces of information, you're not doing a great job.
The font face, font size, line spacing, paragraph length, sentence length, are all the crucial parts of blog post's formatting.
6). Content
This is the main body of the blog post that starts right after the introduction (hook) and ends right before the summary. This is the crux of the article. The Storyboard structure will be incomplete and useless without compelling content.
Don't make it all text—but rather, include all photos, videos, podcasts, slides, charts, quotes, etc. The perfect content for any blog post should be engaging and must be distributed into different subheads.
Here are a few best practices to craft great content for your readers:

Write original content.
Create powerful headlines and subheads/subtitles.
Make the content actionable.
It should be relevant to the hook and the title.
It should answer reader's questions and must solve their problem(s).
Here are additional tips to keep in mind when creating your content:
Include statistics and data in your posts. In general, posts with credible data drive roughly 3X more leads than posts that contains no data or stats.
Share case studies and examples of companies using the tactics you recommended. I did that throughout this post. It shows that your methods and ideas work.
You may like to include a few "Editor's Note" wherever you think it'll provide more insight on the topic. Though, this is optional.
You may also like to include at least one "Expert Quote or Pro Tip" to provide more authoritative insights on the topic.
Make sure you use current data in your content. This will improve reader's perception of your content and trust what you say. In general, posts with stats and data drive roughly 3X more leads than posts that don't contain any data or stats.
Read 21 Pictures That Will Restore Your Faith in Humanity to get an idea on how to write great content for your blog.
This post has over 131.4K likes, 62.2K tweets, and has been shared through email some 21K times.
Pro Tip:
When creating your post, write to one person at a time. So, use "YOU" more often to speak to one person or a specific group of people. Tell a story and put your hearts in it. Be honest. And more importantly, add whitespace between paragraphs to increase
comprehension by 20%.
7. CTA
This is the first call-to-action that should be put right after the content. Though you can use a CTA within the content several times, putting one right after the content will do a more efficiant job.
Because this is where you've delivered your message. You've said what you wanted to say. The person who's reading your blog post is now in a better position to get more details about you, your services and offers.
You can use different types of CTAs based on the purpose of the blog post. See an example from Beacon Mobile.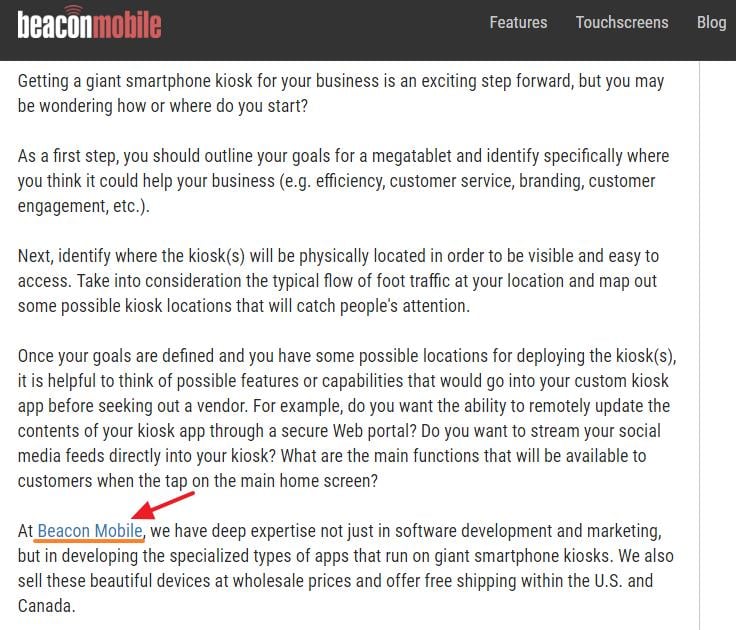 There are three rules that you should follow with your in-text CTA.
It should be relevant to the blog post.
It should be crystal clear.
Provide content upgrade (see examples).
Pro Tip: Use multiple CTAs and always test them. The ones that don't do well must be tweaked and replaced with the ones that perform better. Do not stick to a single CTA. Make them personalized.
8). Linking
It's called websites because of "web"—an interconnected network. In our day, connecting to your own pages as well as other people's websites are done through linking.
That's why Google pays a lot of attention to inbound links.
More importantly, link to:
Credible websites and pages
User-friendly and functional resource pages (not 404 pages)
Exclusive research, reports, and experiments.
Educational research works, videos, and slides
And more.
You have to add links to external sources and to internal pages throughout the blog post. Linking to external sources help improve search engine rankings and linking to internal pages improve the ranking of those pages. It will also impact user experience in a positive light.
Link to old blog posts to send traffic to them. Link to helpful external resources to help readers. See how Wikipedia links to relevant internal pages on the same domain.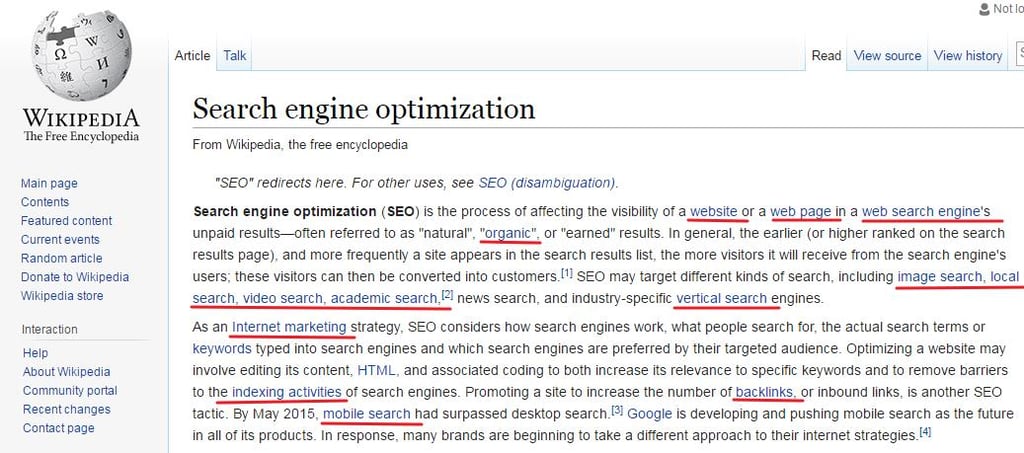 I also link to credible sources outside my domain in all of my blog posts.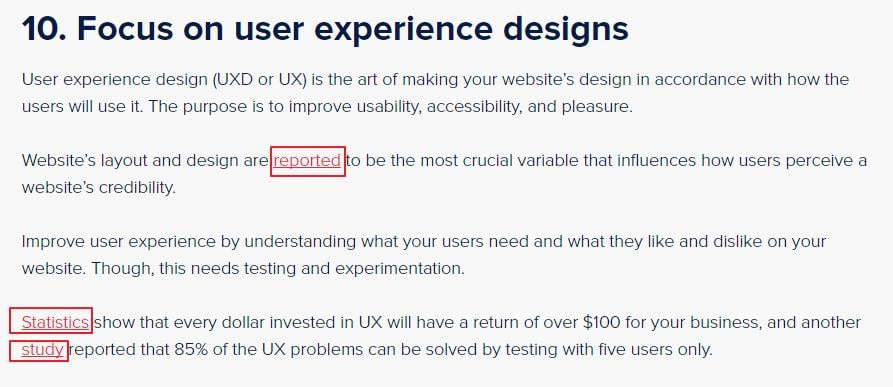 But don't overdo it.
You don't want to send all the traffic to other sources especially to external sources.
Pro Tip: Linking to external sources helps you become an authority. It lets your readers know that you know everything about the subject and the leading sources. Don't ignore linking to best sources even if they're your competitor.
In reality, competition is actually a good thing. You should complement what the so-called competitors are doing, and you'll get better results.
9). Invitation for Feedback
Invite readers to share their feedback at the end of the blog post. Ideally, this should appear after the summary and conclusion.
Invite readers to discuss, ask questions, post a comment, or share their thoughts. Here's how Graeme Keeton asked for feedback at the end of his post.

The idea is to engage with the readers not just to get comments for the sake of comments.
A few of the proven action steps you can take to encourage feedback and invite readers to participate in the discussion.
End the blog post with a question and ask the readers to answer it.
Ask them to share their personal thoughts and case studies.
Respond to every comment. If you don't respond to comments, people won't comment on new blog posts.
Make it easier for the readers to participate in the discussion.
Pro Tip: One of the best things about feedback and comments is that it keeps your blog post alive. It's a free user-generated content that improves search engine rankings. Every time search engine crawlers visit your blog post, they find new content—what's better?
10). Summary
Summary or the conclusion of the blog post should go before the invitation for feedback and discussion. This is where you're expected to to summarize the entire blog post in a few sentences.
A powerful and perfect summary will encourage readers to participate in the discussion and to follow the CTA.
Here's an example of a perfect summary of a detox article.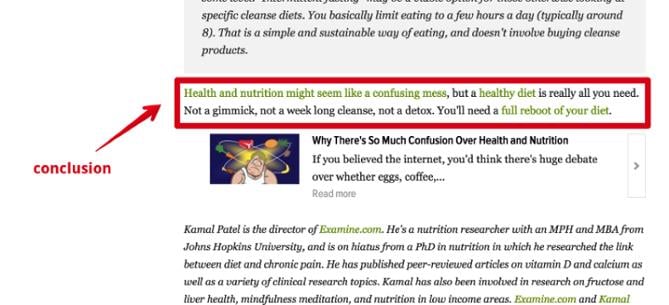 Need more helping hand, here's another example of how to write a powerful summary

You can craft an irresistible summary when you follow these proven tips:
Give it a heading such as conclusion or summary. This will tell the readers what it actually is.
Keep it short. A few sentences or a couple paragraphs are enough.
Don't use images in the summary.
Highlight the main finding or the soul of your blog post in the summary.
Pro Tip: The summary should relate to the hook that was created in the introduction. If it's a question, the answer should be available in the summary. Everything else is irrelevant.
11). Call to Action
This is the last CTA that goes at the end of the blog post. This CTA may or may not be ultra-specific and relevant to the blog post in question. But, the call-to-action must be relevant to what you offer, products you sell, or additional resources on your blog.
For instance, HubSpot uses its opt-in form at the end of every article before comments.

Just before the opt-in form, HubSpot uses a relevant lead magnet with most of its articles.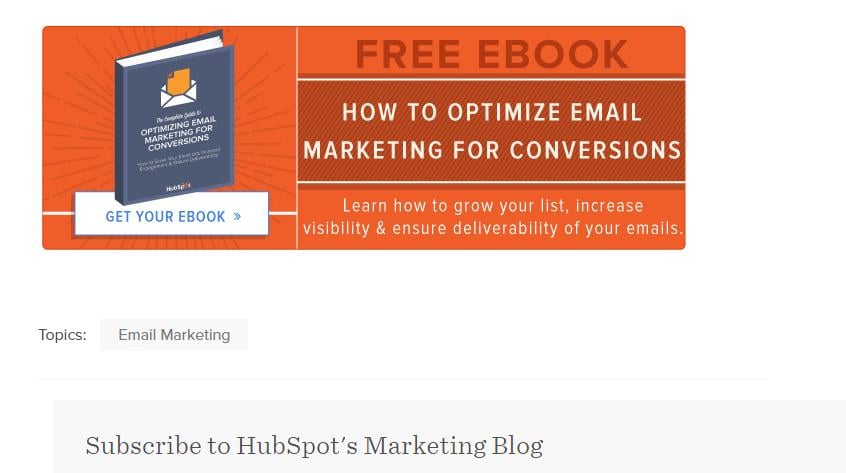 Neil Patel uses a CTA at the end of his every blog post. In fact, he uses a lot of CTAs throughout his blog post.

Are you ready to create a compelling CTA for your blog post? If yes, here are a few tips to keep in mind:
It should be prominent and catchy.
It doesn't have to be ultra-relevant to the blog post (but if you can make it relevant, you'll get higher conversions).
It must be compelling and must deliver value to the readers.
Highlight the benefit that the readers will receive.
Pro Tip: Use one powerful CTA at the end of the blog post. You're not HubSpot so don't try to add two or even more CTAs.
Conclusion
Creating a valuable and share-worthy blog post is just about these eleven elements. Incorporate these elements into your every blog post and you'll notice the difference in terms of organic traffic, engagement, and conversions.
Let's get started today.
What is the best element in the blog post structure that you're perfect at? Let me know in the comment.