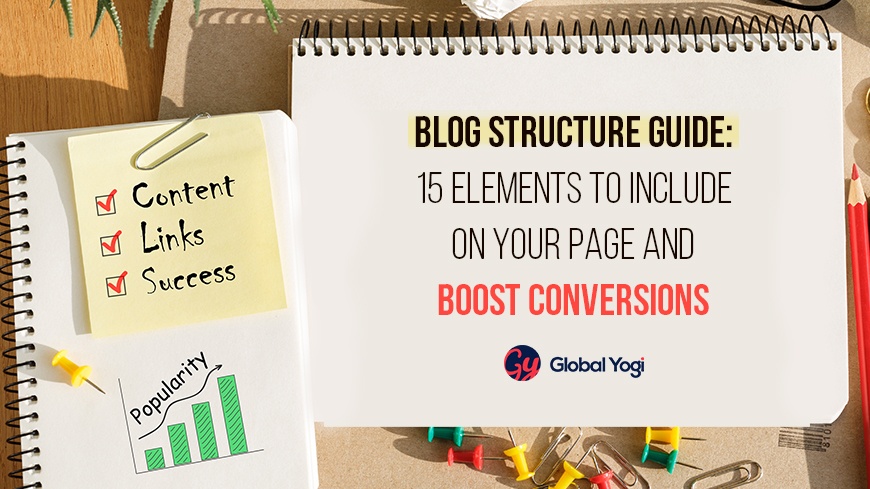 When I started out in blogging, I didn't know how to put a blog post together. I started by simply typing out my thoughts. But it quickly became clear that, if I wanted readers, I needed a better plan.
It's hard–if not impossible–to achieve significant success at content marketing if you're not creating valuable blog posts on a regular basis. Every profitable blog (no matter the industry it belongs) thrives on solid foundation of content.
Your post lives on a page with lots of other elements. These elements are the building blocks of your blog. More importantly, how you structure these elements is even more important.
This is the same structure we use for our blogs, and the results (both search and social media) have been awesome.
Let's dive right in...
1. Blog Title
"73% of buying decisions are made at the point of the headline" – Ted Nicholas
The blog title is the most important part of your blog post and is the leading element in the structure that drives everything else.
It's your blog's title that creates the hook. That makes your readers keep reading. In the real world, 80% of readers never read beyond blog title.
A blog title is visible in SERPs (search engine result pages) so it must have that potential to make people click. Use statistics, numbers, and power words to make your title killer.
You can follow these tips and best practices to make your blog titles catchy:
Make your titles H1 so as to tell search engine crawlers their importance.

Keep it short and sweet.

Address the readers directly.

Don't forget to add a long-tail keyword in the blog title. This will help with search engine rankings.
Pro Tip: Titles are the most important element of your blog post or page. You can get insights from successful titles by looking through a popular offline magazine.
Here's why: Tens of thousands of dollars have been invested into testing to determine why readers pick one magazine edition over the other. Use the ideas on magazine covers to create your own titles.
2. Featured Image
Adding an image to your blog post increases its chances of being shared by a whopping 94%. A featured image helps you create the theme and mood of your blog post.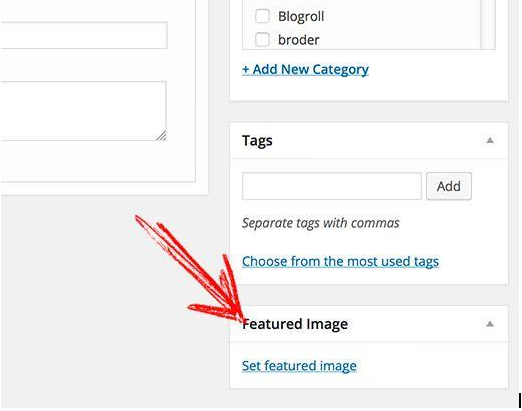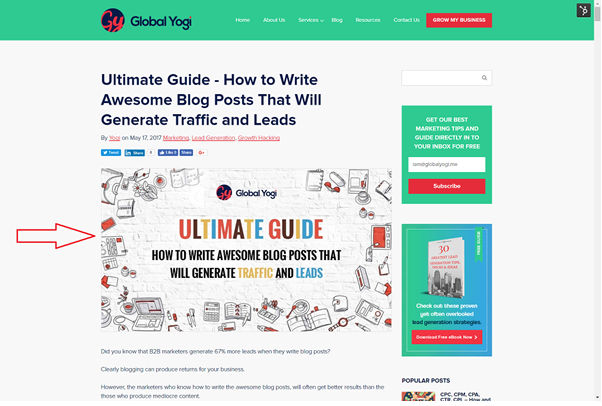 The featured image is used as a thumbnail with your post and this is what makes it even more important to have a featured image.
For instance, when your post is shared on social media, the featured image is automatically picked and shared.
Pro Tip: Don't go without a featured image. Keep it relevant, high-quality, and adjust its size to make sure it doesn't look weird.
3. Category of Blog
Blog category is used to sort your posts. A category represents a general topic and is important for two main reasons:
It helps search engine crawlers find what your blog post is about.
It helps readers find related content on your blog.
Choose appropriate category for every new blog post that you publish. Create relevant categories using long-tail keywords

Change the default 'uncategorized' immediately because there shouldn't be anything uncategorized on your blog.
4. Social Sharing Icons including Print and Email
You can't go without those social sharing buttons on your blog post. Social shares don't just help readers share your awesome content but it's also a Google ranking factor. More social shares mean higher rankings.

Adding social icons on your blog isn't just enough. You have to add print and email icons too so that readers can print content and send it via email to their friends. This is one great source of referral traffic that is, unfortunately, not given much importance anymore.
Be different and add print and email buttons too.
5. Author Bio
Author bio goes at the end of the blog post. It includes author's photo, name, a short bio, and links to social profiles.
Author bio will boost engagement because readers prefer to connect with human beings instead of a business (or a blog). It's the writer who matters.
Author bio is where you can tell your audience why they should trust and read what you have written.
Pro Tip: Make sure that your author bio is credible; add your achievements, especially as it relates to the topic you consistently cover on your blog.
6. Blog Content
Well-written content is one thing and a well-formatted content is another thing. The latter being an important part of blog structure makes it easier for the readers to find, read, and understand the content.
Stick to the following tips to make your blog content well-structured.
Add keyword(s) in the first 100 words as it will help improve search engine ranking of your web page.
Use appropriate heading tags. Insert your primary keyword in at least one h2 tag.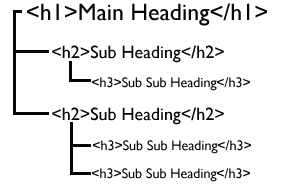 7. CTA
A call-to-action (CTA) is designed purely for readers to persuade them to take an action. Including CTAs on your pages helps improve conversions because your readers know what they are supposed to do once they have finished reading.
There are several ways to incorporate CTAs, and how you use CTA makes all the difference.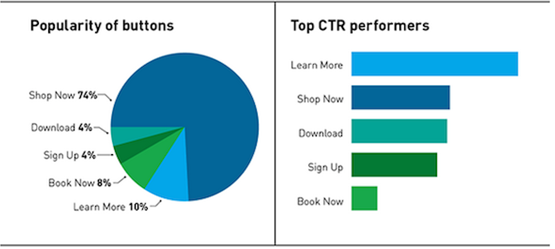 i). Suggest/recommend related posts to the readers.

ii). Use content upgrade CTAs to build your list.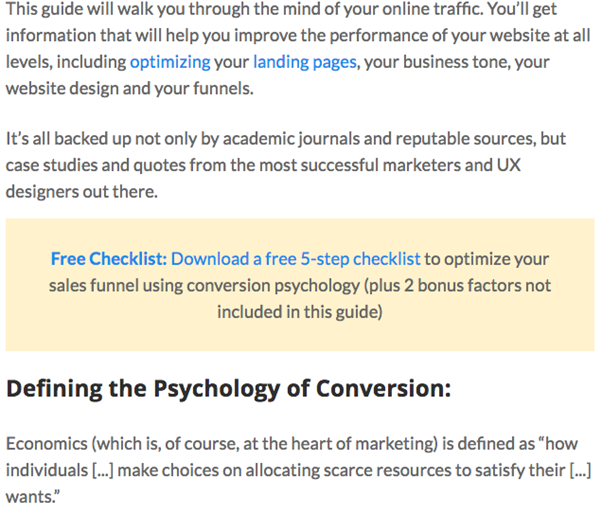 iii). Use banner ad CTAs to send traffic to relevant pages and/or to the landing page.
iv). Use lead magnets, tripwires, and even core product CTAs to convert readers into subscribers and customers.

Pro Tip: CTAs can be used throughout the webpage. You can use them in content, sidebar, footer, and as popups. So feel free to experiment and find out what works best for you.
8. Commenting
Enable comments so that you can encourage readers to participate in the discussion. Comments keep your posts alive. It's free content that comes at no additional cost.
Once you enable comments, make sure you get rid of the spammers as they might ruin your discussion section.
Pro Tip: Read and respond to comments. Answer questions and provide additional insights to your content via your comments.
9. URL
The URL of your page plays a significant role in conversions as long as you keep it short, relevant, and readable. Here's an example of a friendly and a non-friendly URL for both search engines and readers: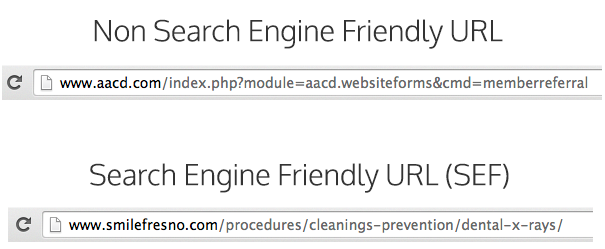 Keep URLs readable so that anyone who sees the URL gets an idea of what the page is about.
Pro Tip: One best way of doing it is to add your primary keyword in the URL. It will make it relevant and readable and at the same time, it will help boost search engine rankings.
10. Search Box
Imagine having a massive website with hundreds of pages and posts. No one can find your old posts without the help of a search box. Even if you have a small website, a search box is still essential.
Why?
Because readers are used to using search boxes. A search box like this will improve readership and conversions.

Pro Tip: A search box is most relevant when you have at least 10 posts which have been archived. Why? Because website visitors and readers can search and find your older posts.
11. Email Subscription
Email subscription is the easiest way to build your email list. Once you have readers on your email list, you can engage with them and convert them into buyers.
Allow readers to subscribe to your newsletter or maybe offer them with a lead magnet. Use email subscription forms throughout your page. Include it in the sidebar, in text, and as popup.
Don't use 'Subscribe to our newsletter' as it has been used millions of times already.
Make your email subscription unique and catchy. Give readers a reason why they should opt-in.
For instance, you can use 'Subscribe to get weekly discount coupons' or 'Subscribe to receive blog posts in your inbox'.
Be creative.
12. Sidebar CTA
One of the best places to put your CTA is sidebar. This is something that rarely goes unnoticed.
Put your best CTA in sidebar and move it above the fold. This is where it will get all the attention.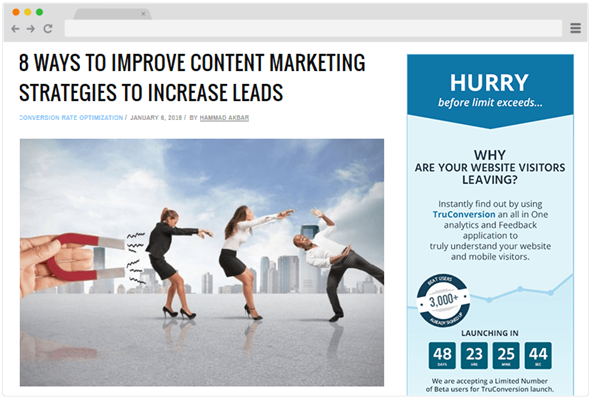 13. Popular Posts
Popular posts is a great way to boost engagement, increase readership, and to increase conversions by sending traffic to your best posts.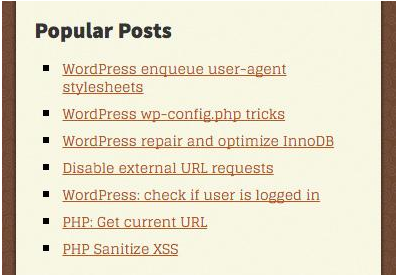 Put popular posts in the sidebar or at the end of the post/page. This happens to be an easy way to keep readers stay longer on your website resulting in an increase in conversion rate.
Pro Tip: You can improve your navigation by showcasing popular posts on your blog. Aside from displaying it at the sidebar or beneath each post, you should also interlink these pages from your new posts.
14. Use whitespace
Whitespace (or negative space) as it's mostly referred to is a critical aspect of modern website design.
White space improves reading comprehension, according to Wichita State University. Another great benefit of using white spaces is to guide users on the webpage. It enhances clarity.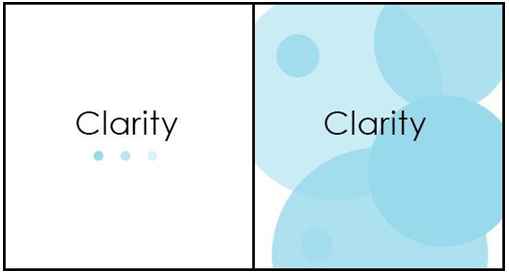 Your job is to add enough white space throughout your website and on all individual pages and posts. White space is an essential part of your blog structure.
Pro Tip: Whitespace could be any empty or blank space on your web page. It doesn't have to be white all the time. Whitespace can improve conversions for your campaigns, even on paid ads.
15. Allow Sharing on Image
There are certain social networks that only deal with images such as Instagram and Pinterest. This calls for enabling sharing option on images.
If you're using a CMS, you can use a plugin. For instance, WordPress users can use Sumo.
Pro Tip: People like to share images on social media networks. So, endeavor to use catchy and relevant images on your blog posts and pages.
Conclusion
These 15 elements are a crucial part of any page that exists on your website.
You don't just have to incorporate these elements but your job is to test and tweak each one of them to improve readership and conversions. Improve what works and get rid of what doesn't.