In this in-depth article, I'll show you how to conduct a keyword research for your blog content, how to cherry-pick the best keywords that will improve your search rankings quickly, and grow your sales.
With all of the noise going on in the SEO environment, the frequent algorithm updates, and new tools being released into the market, many people ignore keyword research because they don't see its relevance today.
If you're one of such people, by the time you're done reading this article you'll have a change of heart. Above all, you have to understand that we now live in a mobile-first, digital economy, where consumers are continually searching for information about products and services online.
According to Andrew Broadbent, "When you are trying to figure what keywords are best to target for your business, try putting yourself in your potential customer's shoes."
Targeting the right keywords in your content will bring mobile users to your web page—and to your business.
Inasmuch as producing engaging and variety of content is the primary challenge of both B2B and B2C companies, the underlying factor lies within keyword research.
Because if you're able to pinpoint the exact keywords that your target audience is using to find you in Google, even if you're not a proficient content writer or blogger—you can always pay someone to create high-quality content for you in different formats e.g., blog posts, infographics, video, podcast, PDFs, reports.
The foundation of SEO success...
All the success stories you've read and know online, especially with those that have successful blogs is as a result of keyword research. Every other thing is secondary.
If keyword research isn't important, then tell me why Brian Dean, Glenn Allsop, and several A-list online entrepreneurs would devote 10+ hours to creating a comprehensive content designed for search engine success?
In fact, Brian said he "never" writes a post without conducting and targeting a keyword that will not only rank in Google organic pages but send highly-qualified leads to his business.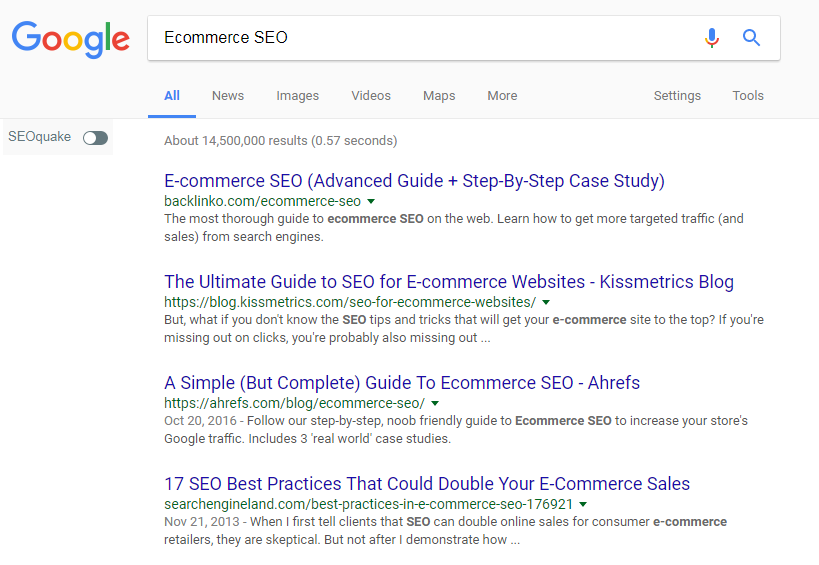 In fact, Brian said he "never" writes a post without conducting and targeting a keyword that will not only rank in Google organic pages but send highly-qualified leads to his business.
Truth be told, you can't achieve much marketing success in SEO without a proper grasp on keywords, and how to use them effectively.
Understand "keyword intent" or "user intent"
Keywords are powerful. Aside from optimizing your content pages for a given keyword, you can learn the thought processes, figure out the fears, and desires of your ideal customers.
To get ahead in this 21st-century dynamic marketing space, you need to understand why your target market search for keywords. The user intent is what drives your SEO success.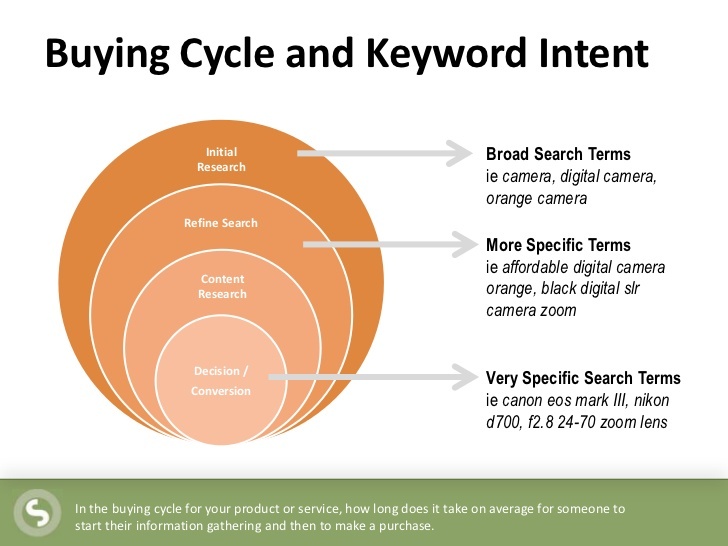 Here's an example:
If I ask you to tell me why people search for "blog marketing strategy" what would you say?
of course, the generic response would go in this line:
"People are searching for keywords because they need information."
Well, there's no arguing the fact that search users are truly looking for information. But that's not what you need as a digital marketer. Because you can't successfully work with that.
You have to understand the "intent" behind the keyword.
So, for example, when someone inputs "Best Nike Shoes," what exactly does the searcher want?
A few thoughts come to mind:
He or She probably wants to know the best Nike Shoes to buy
Perhaps, He or She wants to get more information about the item (as a result of an argument they had over the week with a friend).
You can't even tell if the searcher is a male or female. Do you now agree with me that keyword intent is even more important than the keyword itself?
I betcha…
For online marketers, you'll save yourself a serious headache if you first determine the intent behind the keyword—before creating content for it. Imagine getting excited about a keyword (e.g., social media plan) and creating a post with this idea:
"Social Media Plan for Beginners"
Whereas, the majority of web searchers aren't beginners. Worse, they're not looking for a plan per say, but a template. At the end of the day, it'd be difficult to rank in Google top 10, no matter the quality of links you send to that page. Why?
It's because users don't spend time on your page. Frankly, maybe they visited the page but because you didn't meet their "intent" or "purpose" for that term, they got discouraged.
You've got to understand that Google follows users. If users don't spend time on your page, Google will get a signal that your page isn't useful. Even if you have 100+ more backlinks than your competitors, your page will likely flop.
Informational, Navigational, Commercial Keywords intent
These are the popular intents behind every keyword that users search for. I like to refer to them as the 3 Pillars of Search Intent. Each of them plays a key role in your overall content marketing and SEO strategy, but you must understand how to use them.

Without much ado, let's briefly explain each of them with examples:
i). Informational keywords: I'm for sure you're already familiar with informational keywords. When users input same into Google search box, they're merely looking to learn something or find a quick information.
For example, they might enter "how to repair water damage" because they suddenly discovered a leakage somewhere and the floor getting messy.
Most of the time, the searchers are in the awareness stage. They don't know what to do or the options available to them. Therefore, you should give them a step-by-step guide on how to fix the issue.
Informational keywords may also begin with "Top x ways to", "free guide on", and so on. However, most keywords may sound informational, but they might not be from a beginner. It all depends on the stage the user is in the funnel.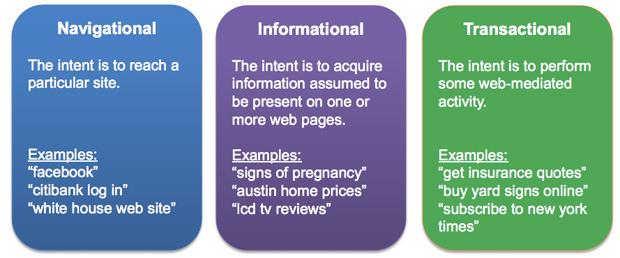 For example, if the user enters "how to use HubSpot CRM" it's obvious that the user already knows about the product and simply want to use it more efficiently.
ii). Navigational keywords: These keywords have clear intents. People who enter them into Google want to find information quickly but may not know how, where, or why. They might even be looking for a URL.
So, when a user searches for "Content Marketing Industry Report 2017," it's obvious they are aware of the report but don't know the website to find it. In other words, they want to "navigate" to the resource page.
Navigational searches might be with respect to a particular location in the map pack.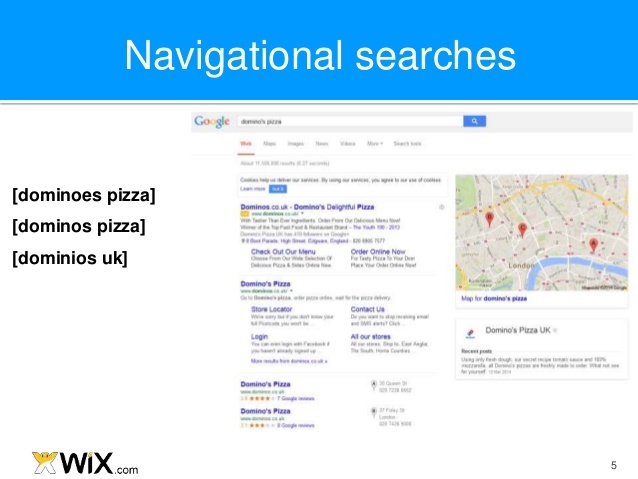 Navigational keywords may have commercial intents as well. For example, if a user searches for "SEO That Works Brian Dean" in Google," it's possible that the user wants to try Brian's online course but don't know the sales page.
Most likely, they want to read reviews first before spending money. Or what do you think?
iii). Commercial keywords: To SEO professionals, these are the best keywords that bring in the money or vital information. They're for transactional purposes—where the searcher exchanges money, email address, calls, and more.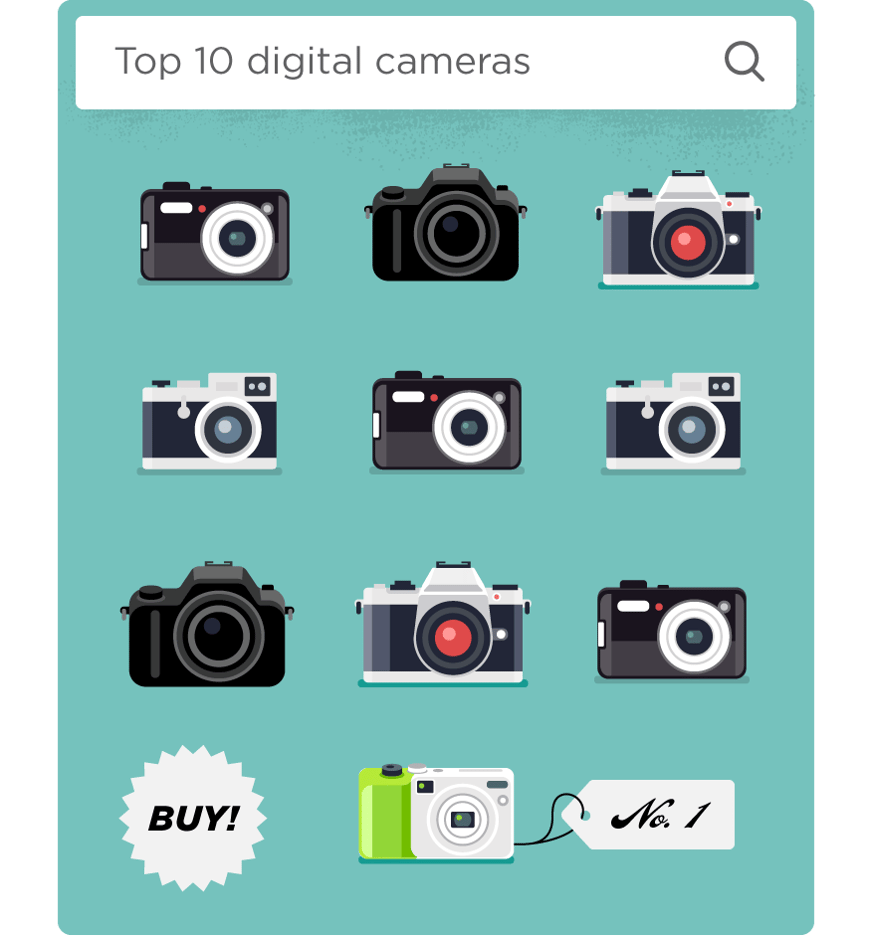 The downside of commercial keywords (a.k.a., buyer keywords) is that they have low search volume.
But don't make the mistake of targeting high search volume informational keywords alone. Because if you do you'll generate thousands of traffic quite well, but you'll be broke and quit eventually.
But don't take my word for it. Here's a proof:
One of the first websites that Brian Dean built generated over 60,000 unique visitors per month from organic search alone, but he made a whopping $0.00 because he couldn't find a way to effectively monetize it.
Yes, it's hard to monetize a website built solely with informational keywords. Although, there are alternative means of monetization today (such as AdSense and other text-link ads), however, this keyword category doesn't provide a viable way to build a long-term sustainable business.
The right approach to Keyword Research for 2017
Fortunately—with the right approach, you'll be able to find informational, navigational, and commercial intent keywords.
Since there's no universal technique for researching your keywords, my approach may be quite different from yours. In all, what matters is that you get easy-to-rank keywords with decent search volumes for your website.
So, let's get into it.
1). Start with the traditional keyword research: Yes, it's vital, to begin with the traditional keyword research that you're familiar with. This method may not give you the best keywords to target in your content, but you'll get a broader insight as to what your target market wants.
This method of keyword research no longer works as it used to in 2012, a lot has changed since them. Here's how it works:
Pick a few keywords from the top of your head
Dig those keywords using Google Keyword Planner
Pick a keyword and create content around it.
Let's put it into practice:
Visit Google Keywords Planner. Enter your "seed" keyword (e.g., Gucci wears) then click on the "Get ideas" button at the right-hand side.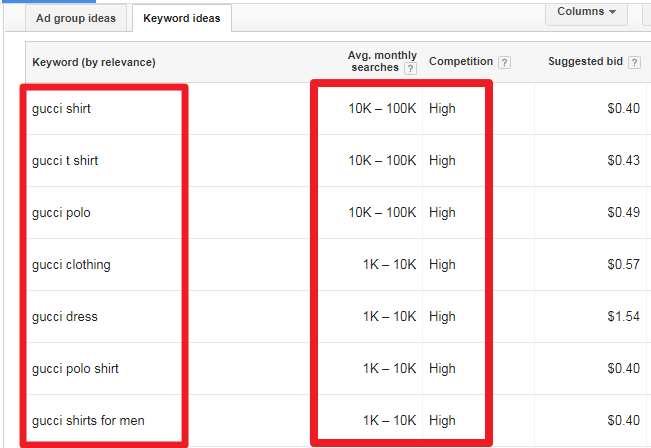 At a glance, you can see that these keywords are broad. They're not the ideal keywords to optimize your pages with. However, you now know the average monthly search volume for related keywords.
You'll then expand each of these seed keywords to find long-tail low-competitive search terms that you can target. Let's find some long-tail keywords.
ii). Niche-down to find low-hanging keywords
In the niche-down keyword research approach, you're not going to simply pick a keyword based on gut feeling, you want to find an opportunity (i.e., a submarket) that you can dominate.
For example, in the screenshot above, you can see the different niches that you could target if you're selling Gucci wears in your website (online store). Gucci Wears is too broad, but sticking to "Gucci T-Shirts" or "Gucci Polo" will position you as the expert in the specific niche.
Eben Pagan, the successful information product coach believes you should narrow down a topic niche in order to communicate your message clearer to your audience.
Truth is, Google and search users (consumers) want you to become a specialty—don't try to be everything to everyone—or strive to cater to everyone interested in buying Gucci Wears. Except you have a big budget to invest into long-term SEO solutions, you'll fail.
More so, the niching-down ensures you lay your hands on low hanging fruits or long-tail keywords as they're popularly called.
It's a lot easier to generate traffic to your website and rank highly in Google top pages for keywords that have more than 3 words and have commercial intent. The longer variation of your seed keyword is estimated to generate 70% of search volume traffic.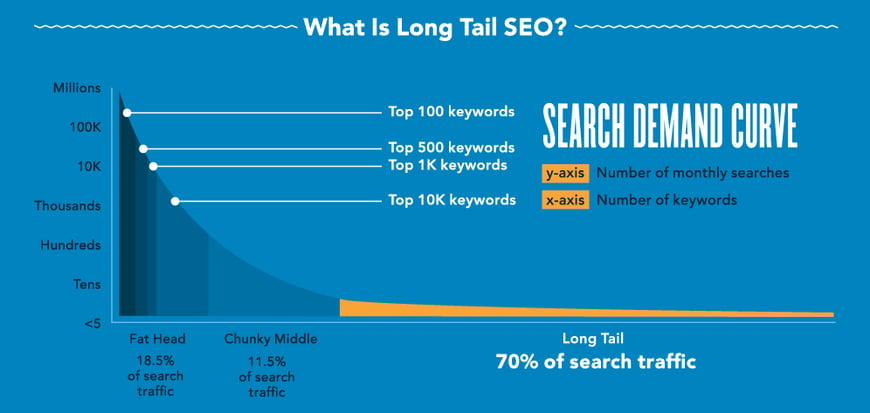 Maybe you've been blogging for 3 months, or even 2 years, and you're still wondering why on earth you should target long-tail keywords and not the head keywords that have the potential to generate thousands of organic traffic to your website.
Well, you've got to understand that top brands and established online businesses don't see the need to target long-tail keywords, because of their low search volumes.
These businesses have the budget to go after competitive keywords such as online consulting because they can invest in whitehat link building, and they can easily take on thousands of new clients per month—startups and small businesses can't handle that.
In over 10 years of marketing online, I haven't found a long-tail search term that has 6,000+ average monthly keyword search volume. You'll likely find these keywords having less than 100 searches per month.
iii). Use niche-keyword research tools: There are keywords research tools that you can use to find long-tail keywords. Unfortunately, Google Keyword Planner has two fatal flaws: it's designed to generate a list of head keywords and not the longer variations.
Worse, since a lot of people use the Google Keyword Planner, it means you're competing with tens of thousands of marketers who equally have access to the same exact keywords. No wonder most keywords are so competitive.
Essentially, let's use the KeywordTool.io tool. It comes handy and works well especially for a niche topic. So, let's use one of the niches on this list to uncover long-tail keywords:
Gucci Polo
Gucci Shirts
Gucci Men's Shirts
Gucci Jacket
Here's what to do next: Go to KeywordTool.io, enter your preferred keyword (e.g., Gucci Shirts) into the search box. Then, click on the search icon at the right-hand side, or hit the "Enter" button on your keyword.

Next, analyze your results and pick longer variations of your seed keyword.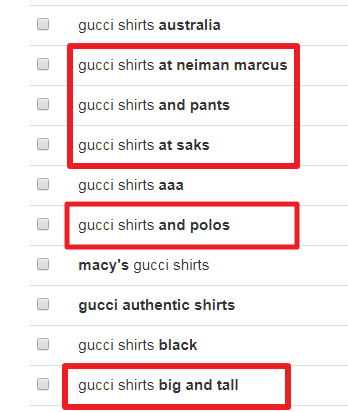 Pro Tip: The results above are from one seed keyword, imagine how many long-tail search terms you'll uncover when you dig the other three seed keyword.
iv). Spy on your competitors to find hidden keywords:
The thoughts of spying on competitors have always had a negative stigma. "Isn't spying on them illegal and unethical?" a friend recently asked during a mastermind session.
And here's my response:
"You're not spying on them to harm them but to learn how good they are so that you can level up."
How does that response resonate with you?
In today's marketing environment, you can't afford to do it all by yourself. The same marketing strategy you're trying to develop, I can assure you that your competitors already have a proven template that works every time.
My question is, "why reinvent the wheel?"
If you're currently ranking in Google for any keyword, I can boldly tell you that your competitors are spying on you.
No, they're not using a pair of Binoculars like you see on Stock Photo depositories, but rather, they're using tools that allow them to legally gain important insights about the industry, for which you're a part.
A simple way to find the keywords (both head and long-tail variations) that your competitors are ranking for right now is to use SEMrush. It's one of my favorite tools, and you can even get a lot of insights and data with the free version.
Here's how to go about it.
Go to SEMrush and enter your competitor's blog URL (e.g., Problogger.net). Then click on the "Start now" button at the right-hand side.

The first thing you'll see is the overview of the URL you analyzed. From our results, Problogger.net is currently ranking for 96 keywords.

If you scroll down the results page, you'll find the top 5 keywords, their search volume, and positions in the organic listings. Next, click on "View full report" to explore the other keywords as well.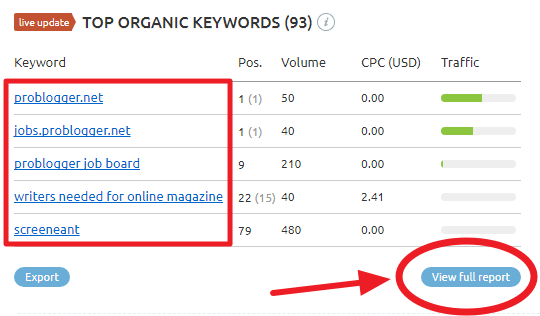 v). See what keywords you already rank for: It's high time you extract the keywords that are currently ranking in search engine results pages and bringing you decent traffic.
Instead of looking outside for that magical spell, use website tracking tool like Google Analytics which is popularly used by most marketers.
Here's how to find the keywords you currently rank for and how to reverse-engineer them to generate long-tail keywords.
Pro Tip:
Make sure you link your Google Analytics to your Google Search Console account (
tutorial video
).
Log into your Google Analytics account and follow this path:
Acquisition > Search Console > Queries.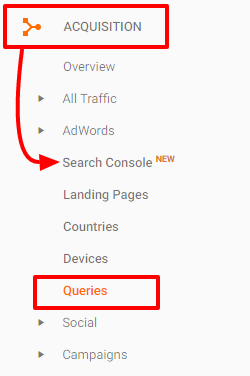 Then you'll see a list of keywords in the organic search results: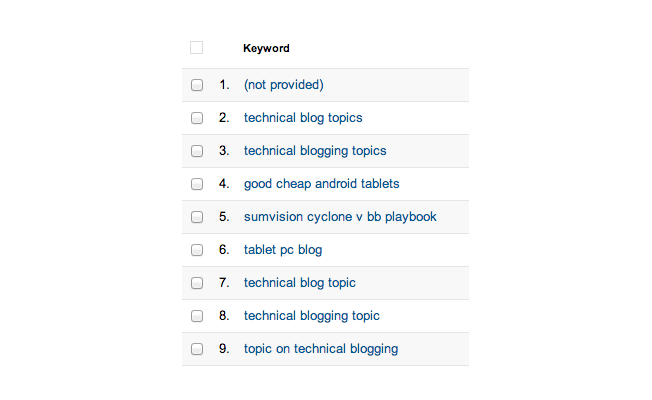 So, with these keywords that you found in your Analytics dashboard, what can you do with them?
Improve your content: Are you struggling to rank a particular page higher in Google but your efforts prove abortive? You can improve the content by optimizing the page's title tag and meta description with a long-tail keyword you found in Google Analytics
Integrate the keywords into your post: For your content marketing efforts to yield dividends, you have to creatively integrate long-tail keywords into your post. If you're an ecommerce marketer, stop competing with Amazon, Newegg, Aliexpress, and other established online stores. Instead, go for longer variations of the keywords they're optimizing their pages with
For example, if Amazon is targeting "Kindle Reader" you can get better organic visibility if you go after the long-tail variation, such as "Best Kindle Wireless Reader."
Certainly, you'll be able to improve your rankings in less than 60 days, assuming that you spend some time to build relevant and authoritative inbound links and get some social signals to the page.
Create a product: Essentially, you can glean ideas and directions on your next product just by looking at the keywords in your Google Analytics account. Since people are searching for these keywords already—they're giving you the go-ahead to create that product—the idea has been validated to fly.
How does Google rate keywords in the ranking algorithm?
Not all ranking factors are treated equal—but if you have to spend ample time on any particular factor, let it be the keyword. On-page keyword usage takes up about 15.04% in the Google algorithm.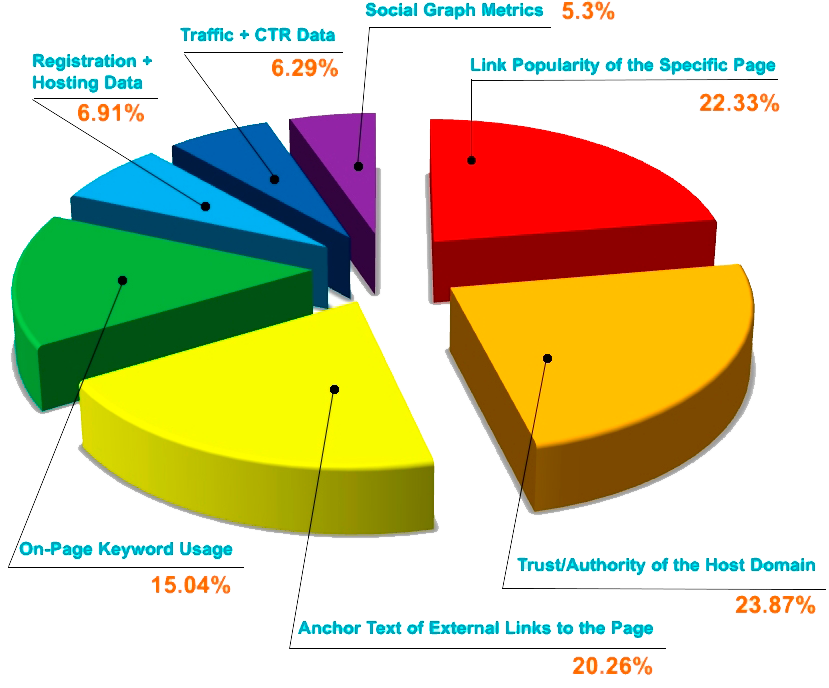 If you want to maximize your SEO performance, focusing on a few specific factors can affect your bottom line.
Even though Google's algorithm is constantly evolving, and we'd go amiss if we rely on outdated ranking factors—but keywords are really integral to all the other factors: Backlinks, anchor texts, content, on-page links, technical SEO, meta data, as well as the other 200 ranking factors you'll find on the SearchMetrics report.
A word of caution: Because of Semantic Search, Google no longer exalts keywords highly as it used to. 5 years ago, optimizing your page for a long-tail keyword without providing value might get you to rank in Google top 10. But today, it's a different story.
Semantic Search
Google is moving away from the traditional keyword to using Semantic Search as the benchmark when determining the relevance of a particular page.
These semantic search factors: Natural language recognition, user context, entity recognition, and query stream context are the determining factors of today's ranking—even though Google hasn't nailed it yet.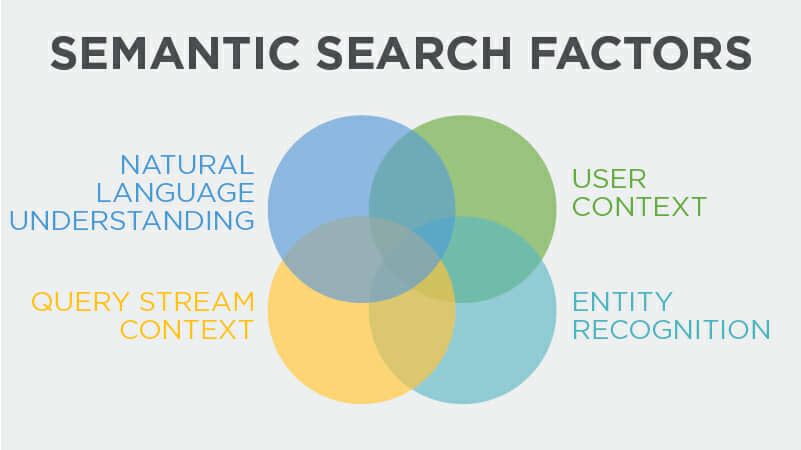 Of course, including your primary keyword in the title tag and meta description still works, but it must be within the confines of "user intent" and not necessarily the keyword.
So, for example, if my primary keyword is "Website Traffic Generation," then in my title tag I might focus on what the user truly wants, and my title will read thus:
7 Effective Ways to Drive Traffic To Your Website in 60 Days
How to Attract Website Visitors to Your Website Easily
You will observe that I didn't quite target the exact keyword the user is searching, instead, I somewhat answered their question with a benefit-driven title tag.
Bringing it home, the word "Semantic" communicates the meaning or essence of something. In the SEO space, we call this "user intent" which I'm certain you know very well.
Google uses your search history over a period of time to deliver semantic search results to you. For example, if in the past 2-3 months you've been actively searching for "Computers," then Google has mined a lot of data to understand your language and intent.
So, if you enter the query "Apple" chances are greater that you want the Apple Computer and not the fruit.
More so, in the past, search engines struggled to understand the concept of entities—the idea of associating properties with places, people, events, and more.
But the Hummingbird update, the RankBrain, and other technology that Google has gone through have made it easier for Google to give you the best results.
If a user performs a query for "how tall is the Washington Monument?", the search engine can actually give the accurate result. Let's try it:

With a keyword difficulty of "2", it means the keyword is fairly easy to rank in Google #1. But considering the traffic potential, the page gets almost 300 visitors from organic searches per months—and it ranks for 48 keywords.

b). Cost Per Click: This keyword metric will come in handy when you're running a Google AdWords campaign.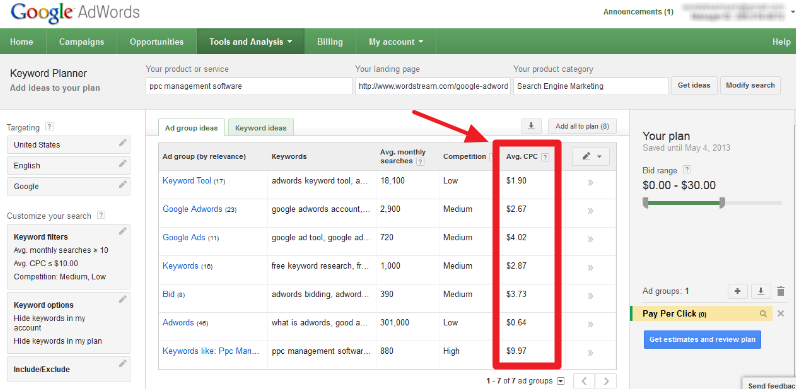 More importantly, the CPC of a keyword can also give you an idea whether the keyword has a commercial intent or informational. For example, the keyword "Mesothelioma lawyers in Miami" costs more than $100 per click.
As an SEO, if you go after this keyword (which is very difficult to rank at #1 organically), and through your content marketing efforts, you ranked at #3 for its synonyms—how much do you think you'll generate?
It doesn't matter whether you only get 5% click-through rate (CTR), you'll still generate a lot of money from that single keyword and its LSI keywords variations.

Start answering users' questions. Use the LSI (Latent Semantic Indexing) keywords to optimize your pages. The fact that someone conducted a search for "SEO tool" doesn't mean they want another "Top XX SEO tools" list. Perhaps, they want to know how to use a particular SEO tool to get results.
For example, before I produced this long-form article to target this keyword "Keyword Research for Blog Article," I asked questions, read comments from my target audience, and surveyed them.
Then I found that people are not looking for another article on the "XX Keyword Research Tools" article. But rather, they want a step-by-step tutorial on how to use the available keyword research tools to find long-tail keywords and grow their business.
Hence, I spent 48 hours to produce this scary long-form post.
Hack easy-to-rank keywords from active communities
Here at Global Yogi, we're vocal about our approach to keyword research. If not, I wouldn't have created this detailed post to explain exactly how we do it.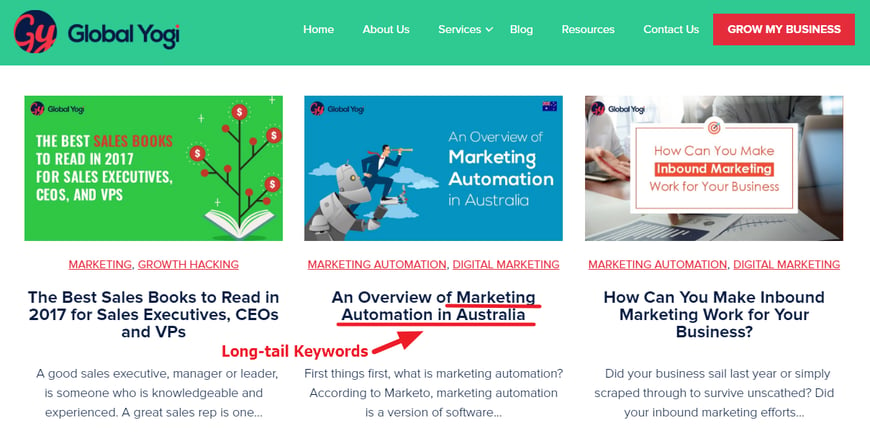 There are more than a hundred methods to find keywords that are easy to rank in Google. One of the reasons why people struggle with this process is because the tools are just too many, and this poses a dilemma.
The methods that I'm going to show you below helped a SaaS company to find long-tail keywords with no strong competition. As a result, they saw an 11.24% improvement in search rankings.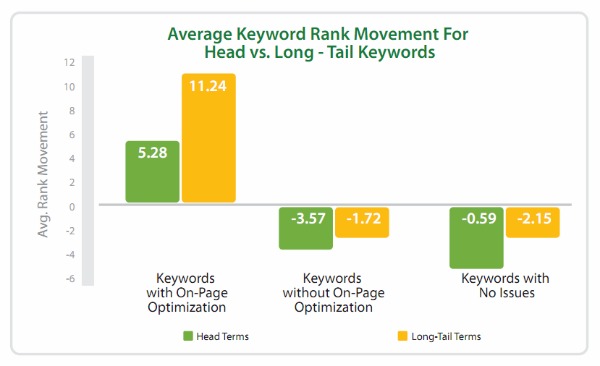 The right keywords can help tremendously in on-page SEO because you can naturally integrate these search phrases into your blog posts and increase organic traffic by up to 80%.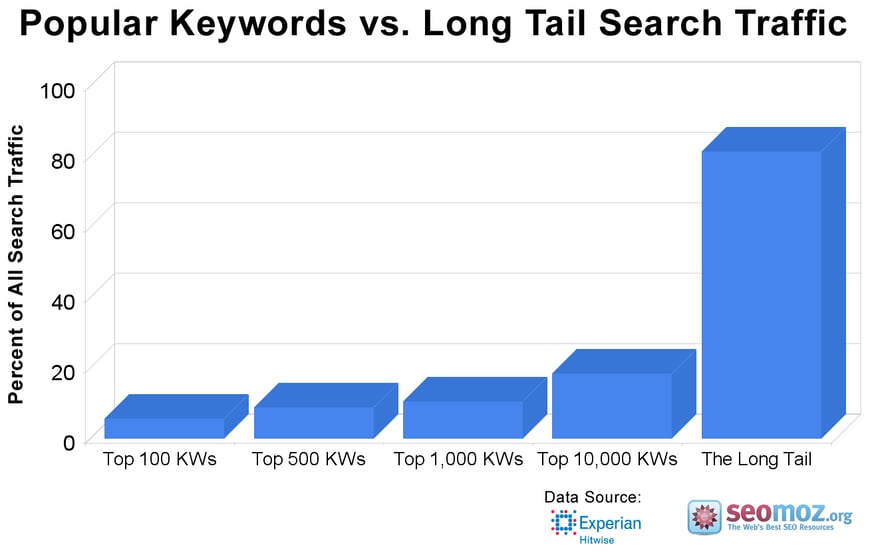 a). Using Quora to find keywords: Quora currently has over 80 million active users, but let me know bore you with Quora statistics, but I can't keep quiet about Quora because it's been a source of targeted traffic and leads for my business.
Truth be told, question-based keywords happen to be the best and easier to rank keywords when it comes to SEO.
Since Quora curates question and answers from millions of users globally, you can easily find relevant questions for your next blog post—and reverse-engineer the topic to find other hot keyword phrases.
We discussed commercial-intent keywords and navigational keywords earlier, right? With Quora, you can find these keywords by simply searching on the platform. Conversion-focused questions provide less-competitive keywords too.
Here's an example:

Quora receives over 6,000 questions per day, and this is a huge opportunity to find the questions that will make for a great keyword in your post.
Here's an example: Assume you want to create a post on social media, let me show you questions on Quora and some keyword ideas.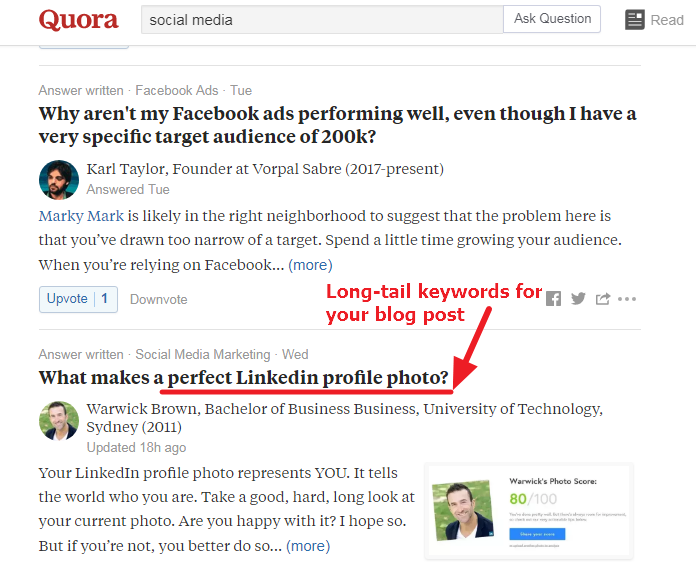 The question reads: "What makes a perfect LinkedIn profile photo?
Your blog title could then be:
How to Create the Perfect LinkedIn Profile Photo
The Perfect LinkedIn Profile Photo That Improves Conversion
b). Online discussion boards: Aside from Quora I also use online forums and discussion boards to brainstorm relevant keyword ideas for my content.
At online forums, you will read a lot of threads of people asking bugging questions as well as answers to these questions—especially on "very" active forums.
Go to online discussion boards where you target audience are actively involved in and search for topical questions.
You can use these search operators in Google to find them:
"Keyword" + "online forum"
"Keyword" + "board"
"Keyword" + "Powered by vbulletin"
Let's do a quick search in Google: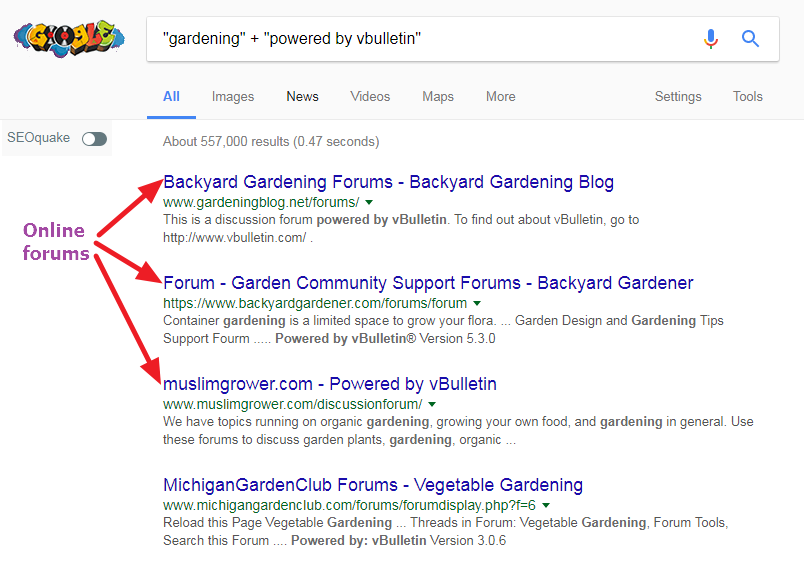 c). Amazon: Popular book titles can give you new insights and approach for keyword research. Just go to Amazon.com and search for books based on the category you want.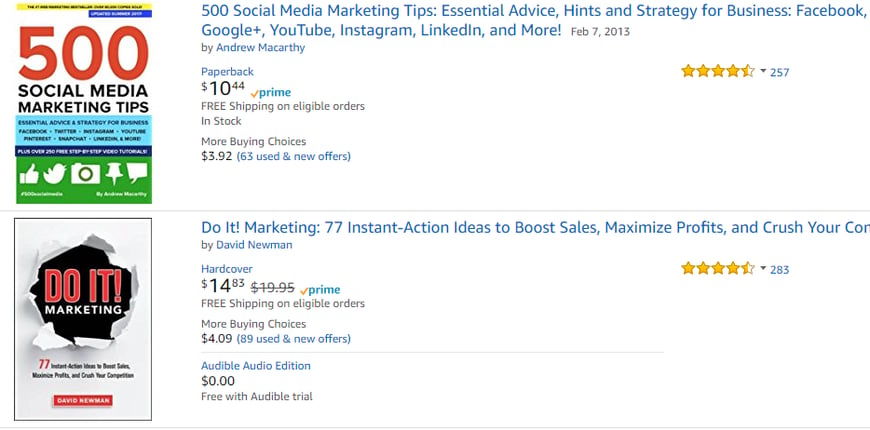 If you click on the book cover to peek inside the book, you'll be amazed—the Table of Contents alone will provide some sorts of keywords or blog post topics.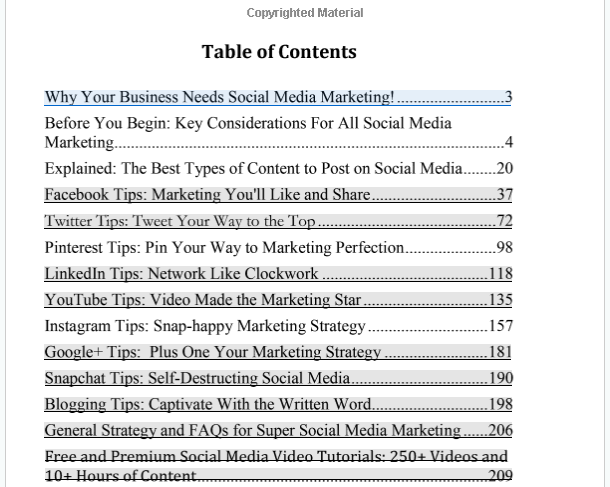 Getting keywords ideas from other sources besides Google Keyword Planner is important. If you develop a good SEO strategy, you will improve your search rankings.
WPBeginner increased organic traffic by 20% in just 2 months. They used a premium long-tail keyword suggestion tool, HitTail, to find easy-to-rank search terms and then created compelling content for them.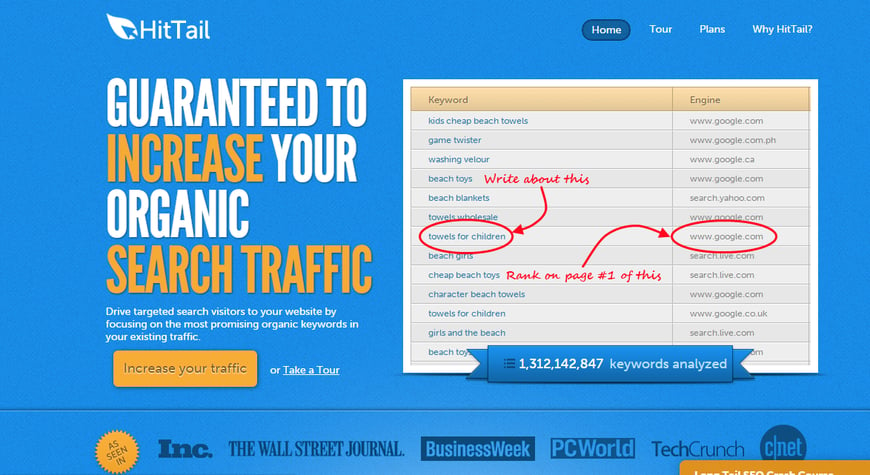 If you're doing all you can to improve search visibility, HitTail comes handy because it will track your top keywords that are performing keywords and show you website search data for long-tail keywords that are under performing—which means you can use them the right way now.
I've used HitTail myself and it's a powerful one. Just put the tracking code on your WordPress site and let it run in the background while you focus on other aspects of your business.
Once the tracking code is active on your WordPress <head> sections, it'll begin to record unique search visits to your website and the keywords they're using—isn't it wonderful?
Keyword Metrics
Fortunately—I have shared several techniques and tools for keyword research. I'm sure you're no longer in the dark, however, there's still a problem.
Having generated a lot of keywords (both head and long-tail keywords), which of them should you target on your page. Because just because a long-tail keyword is easy to rank doesn't mean you MUST go for it.
So, let's briefly discuss keyword metrics—what metrics to keep in mind when targeting keywords:
a). Traffic potentials: Tim Soulo explained in his flagship article on Keyword Research that the traffic potentials of a keyword are as important as the search volume and clicks.
So, using the Ahrefs tool, the keyword "I'm sorry flowers" doesn't have much traffic demand—take a look:

With a keyword difficulty of "2", it means the keyword is fairly easy to rank in Google #1. But considering the traffic potential, the page gets almost 300 visitors from organic searches per months—and it ranks for 48 keywords.
b). Cost Per Click: This keyword metric will come in handy when you're running a Google AdWords campaign.
According to Tim, the CPC of a given keyword can change frequently due to demand from advertisers, but the average search volume of any given keyword will likely remain the same for the next 30 days.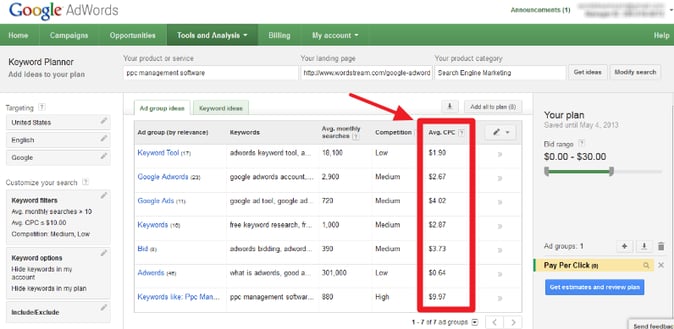 More importantly, the CPC of a keyword can also give you an idea whether the keyword has a commercial intent or informational. For example, the keyword "Mesothelioma lawyers in Miami" costs more than $100 per click.
As an SEO, if you go after this keyword (which is very difficult to rank at #1 organically), and through your content marketing efforts, you ranked at #3 for its synonyms—how much do you think you'll generate?
It doesn't matter whether you only get 5% click-through rate (CTR), you'll still generate a lot of money from that single keyword and its LSI keywords variations.
Conclusion
None of the keyword research techniques that I shared in this article is a shortcut to ranking in Google top 10.
You have to make up your mind to consistently produce fresh, engaging, and useful content for your target audience. This is essential for building a successful blog in the long run.
Once you're committed to producing and promoting helpful content (especially the long-form types) and build authoritative backlinks, your search rankings and traffic will increase as well.
I'd love to hear from you. Which method do you use to find keywords for your blog articles? Share your thoughts below...

Happy Marketing!