1. What is Mobile Marketing
Mobile marketing is quite simply, the discipline of marketing that deals with the promotion and communication of ideas, concepts, and information in order to engage an audience of potential customers. Like traditional marketing, mobile marketing has a definite end goal -- to create an offering that has value for a potential buyer. Mobile marketing has also been defined by the Mobile Marketing Association, a global non-profit organization as:
"Mobile Marketing is a set of practices that enables organizations to communicate and engage with their audience in an interactive and relevant manner through any mobile device or network."
The basic elements of mobile marketing are defined by the term itself:
• The practice of marketing -- Engaging in a planned sequence of activities that work towards taking a product or service and promoting its purchase, highlighting its uses and creating a platform where a sale may be initiated.
• Using a mobile device -- the use of mobile devices to deliver marketing content in audio, visual and textual form.
Mobile marketing is also defined as the 'marketing campaign for one' -- a reference to the personalized environment of a mobile phone. Unlike traditional marketing that relies on demographic data to reach target groups, mobile marketing can be customized to an individual, based on consumer-specific data received from the user's preferences.
The measurement of the growth of mobile advertising often presents even the most diligent researchers with numbers that come from a wide range of sources and the varying interpretation of these numbers. In the light of these challenges, creating competitive differentiation in a rapidly expanding marketplace places stringent and urgent demands on time-tested marketing strategies.
Today, a firm's marketing practice contends with unlimited consumer demand, innovative competitors and rapid changes in technology while attempting to accomplish a simple objective: To bridge the gap between an enterprise and its customers. Mobile marketing is by far, the largest, most complex marketing channel that connects businesses to their customers on a single ubiquitous platform.


2. How do Mobile Ads Work?
Mobile advertising relies on the basic tenets of traditional advertising with several nuances and facets that are unique to mobile platforms. Advertising plays a critical role in the journey from product or service creation to monetization. Mobile ads market a product on a user's mobile device such as a tablet or cellular phone.
The increasingly social context of advertising has made customer advocacy and brand awareness two of the key enablers in the world of mobile advertising. The objective of mobile marketing is to increase sales conversions and revenue while improving brand awareness and driving customer engagement with the product or service on offer.
Advertising content is delivered to mobile phones via phone calls, SMS and data services. While SMS has long been a popular form of advertising, improving data bandwidth, screen size, display capabilities and ad-friendly carrier policy have made advertising on mobile phones a lucrative business opportunity. Today, a mobile phone is designed to mirror or exceed the processing and display capabilities of a desktop computer.
The entities involved in the mobile advertising process are:
1. A mobile ad originates with an advertiser or brand that creates the products or services that need to be delivered to consumers.
2. The creative agency and media planners conceptualize and purchase media that will be sent out to consumers.
3. Content owners and producers create the content that is advertised.
4. Advertising networks are the monetization channels of the mobile ad, while Publishers ensure that the ad is placed in their portals for Consumers.
Many of the players in a mobile advertising value chain are mirrors of their traditional advertising counterparts. However, differences such as publisher reliance on ad networks to find selling space is far greater in the area of mobile advertising. The revenue sharing model between these entities continuously evolves as a product of the increased spending on mobile ads, creating new service offerings for all entities involved.


3. Common Mobile Marketing Terms
The clear understanding, analysis and inference of mobile marketing data rely on the intelligent use of carefully defined pragmatic metrics. The objective of any mobile marketing campaign is to engage mobile users and to complete the journey from awareness to monetization. The need for clear actionable data has led to the adaptation of traditional marketing metrics for mobile campaigns.
Mobile marketing metrics typically measure the cost, return, effectiveness and success of a mobile marketing campaign.
A. Understanding Metrics: Cost per Click (CPC)
Cost per Click is one of the two key metrics that are used to measure the success of a mobile advertising campaign. By definition, CPC is the cost paid by an advertiser every time an ad is clicked and a user is directed to a mobile page. Once made popular by Google Adwords, the use of this metric is gradually being superseded by the use of Cost per Mile. One of the reasons for this is that CPC does not account for nor consider the number of views of an ad taken to generate a single click. Therefore:
CPC = Cost of the mobile advertisement (a) / Number of clicks on the ad (b)
CPC has often been seen as a 'hard metric' that represents a higher risk for the ad space owner. CPC requires them to rely on the effectiveness of the ad in order to generate revenue.
B. Understanding Metrics: Cost per Mile (CPM)
Cost per Mil is the second key metric that tracks the success of a mobile campaign. In theory, Cost per Mil (Mil is the Latin translation of Thousand) is a representation of the cost incurred by a company for every thousand impressions or views of a mobile advertisement. CPM is expressed as an integer that is calculated by dividing the cost of placing the ad by the estimated audience for that ad and multiplying the resultant cost into a thousand. Therefore:
CPM = [Cost of the mobile advertisement (a) / Number of target users (b)] x 1000
The mobile marketing and SEO industries treat this metric rather differently. This variance is largely on account of the greater precision that the cellular medium offers. Counting the number of devices that an ad is sent to is far easier than identifying the number of concurrent viewers on the internet. However, this variance is not significant enough to invalidate the metric.
Effective Cost per Mil (eCPM) is an adjusted metric that calculates the estimated earnings for every thousand impressions. This metric helps a publisher or marketing firm understand the potential earning that an ad can generate across channels. When used in predictive analysis, this metric can help marketers and clients take sound decisions about the nature and direction of the campaign.
C. Fill Rate
As new as it sounds, the mobile marketplace relies on some metrics that have been part of marketing theory for well over half a century. One of these metrics is Fill Rate. In a mobile marketing scenario, Fill Rate is defined as the number of requests that an app makes for a specific mobile ad.
Consider the following scenario:
A typical mobile user accesses a digital marketplace (AppStore, GooglePlay or Blackberry Store,) and downloads an ad-supported app. When a user opens the app, the app 'calls' an ad source to return an ad to the user's device. Fill Rate is expressed as a percentage of number of ads delivered to the total number of ad requests sent. This percentage metric gives a marketer several important analysable data points:
• The number of ad requests originating from a device.
• The number of ad requests handled by a specific network.
• Specialization details for the ad source.
• Demographics (networks, device, geography and user) categories that return results.
While data points (a) and (b) are directly from the calculation formula and enhance a marketer's understanding of the quantitative data about the delivery of ads from source to end user, data points (c) and (d) allow a far more qualitative understanding of the type of ads that are sent to a user and the capabilities of the ad networks used by the campaign. Along with eCPM, Fill Rate can help determine the individual tactics and strategy for the following steps, namely the call to action, conversion and eventually, monetization.
Fill Rate can never reach an absolute value of 100%. Some of the reasons for this include app-related issues, network issues, user input or any action that prevents a user from viewing the ad delivered. A mobile marketing firm will attempt to offer its clients a Fill Rate of 90% or more, depending on their access to a number of comprehensive ad networks.
D. Ad Network Mediation
In order for an app to deliver better ads, it must connect to multiple ad networks. The goal of this process is to allow an app to deliver ads to users no matter what country they live in, what language they speak or any other criterion. Ad Network Mediation is a process that connects an app's ad campaign to most major advertising networks by 'mediating' their interface with the app via a single platform.
In addition to making ads available to an app, mediation can help a publisher, agency, aggregator or any advertiser expand their advertising capabilities by allowing them to:
• Ensure that users receive ads no matter where they are.
• Ensure that these ads are relevant and targeted at the appropriate customer segment.
• Ensure that ad performance can be monitored across a wide range of ads.
Ad Network Mediation allows an advertiser to maximize an ad's potential by using multiple ad networks. Ad traffic can be user-controlled and set to automatically respond to location-specific or demographically targeted ad requests. This feature allows an advertiser or media agency to ensure that a potential customer receives targeted ads. Mediation can also allow ads to be sourced from all major networks and distribute ad sourcing across all networks or allocate traffic according to eCPM.
E. Customer Lifetime Value (CLV)
Customer lifetime value is defined as the total sum of money that a single user will spend on your app for the lifetime of the app. This metric is vital to the success of a mobile marketing campaign as it influences a company's decisions on the type of campaign that needs to be run, the target demographic and even core metrics such as product or service quality and turnaround time.
CLV also finds relevance in the areas of customer retention and marketing strategy, helping advertisers target the correct demographic and even discover new pockets of prospective customers.


4. Types of Ads
Improvements in hardware and software have helped Smartphones duplicate, and in some cases, surpass the capabilities of a desktop or laptop computer. In addition to standard SMS and other textual advertising, these advancements also allow a mobile or handheld user the ability to receive rich, engaging multimedia content that includes images, animated vector graphics and video. Mobile ads are typically classified as text ads, banner ads, interstitials, audio ads, and video ads. Ads in each of these mediums offer distinct advantages and disadvantages to specific target demographics. Consequently, a mobile marketing campaign needs to use a judicious mix of ad types in order to maximize the efficiency and effectiveness of the campaign.
A. Text Ads
Text ads are believed to be among the most effective mobile ads on account of their simplicity and ease of generation and use. A typical mobile ad resembles a text ad (such as an ad you would see associated with Google search results) on a desktop computer, displaying three lines of text and a link to the product's mobile site or web page. WAP-enabled phones allow ads that have a headline no longer than 18 characters with a website URL as the third line. WAP text ads permit telephone numbers in the third line of the ad text that a viewer may access and call directly from their phone. Text advertising on cellular phones is subject to several restrictions such as the use of smiley characters and extended uncommon abbreviations.
B. Banner Ads
Banner ads are typically a combination of text and visual content typically presented as a single static image file. Unless specified by the advertiser, banner ads are colour still images that may be viewed across platforms, operating systems, network technologies, data plan bandwidths and devices allowing them to be a pervasive and the most popular form of mobile advertising, Banner ads are also available as animated ads as .gif or .swf files.
As with text ads, Banner ads are subject to stringent size restrictions and are typically displayed in 6:1 and 4:1 ratios with a maximum size of 300 x 75 pixels. On older devices, these ads are displayed as WAP 1.0 banners that are black and white images with text tagline ads.
Banner ads are broadly classified as:
• Demographic Ads are based on a user's age, gender, income group and profession, if the data is available.
• Geographic Ads are based on the base location of the user's mobile device.
• Contextual Ads are generated based on the content a user browses for, displaying ads relevant to searches or the current page displayed on the browser.
• Behavioural Ads are displayed based on a user's browsing pattern and how frequently the user views or visits specific product or service categories. For example, a person who visits gaming websites will receive an ad for a gaming console or a specific upcoming game release. Banner ads are used in mobile rich media as expandable banner ads, floating banner ads and expandable animated ads.
The customizability and ubiquitous use of banner ads makes them the staple of most mobile advertising networks. In addition to mobile advertisers, banner ads are used by content distributors, publishers and even mobile carriers.
Banner at the top of your app


C. Interstitials
Interstitials are a step forward from standard banner ads. They are typically rich content ads that often act as an advertising 'app within an app' with their own app-like layout, navigation and animation. Interstitials are served at transition points in an app such as loading screens, pre-load (also known as prestitial ads) and app shutdown prompts. Interstitials are often rich HTML5-based content that is relevant or related to the app they are served to, typically accompanied by a call to action or a 'Skip this Ad' option.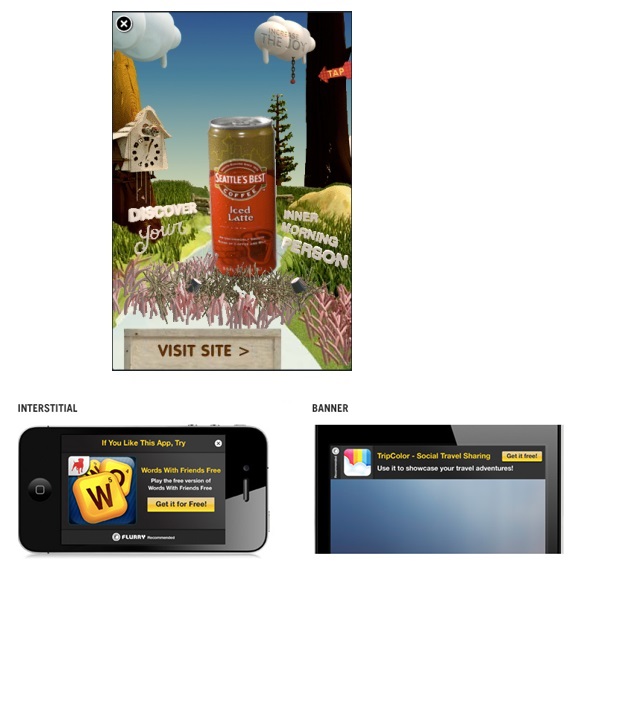 Interstitials offer interactive advertising and are popular in contextual advertisements as part of a medium to large ad campaign. These ads are typically available in 120, 168, 216 and 300 pixel widths.
D. Audio Ads
Audio ads are short sound clips or voiceovers of marketing content aimed at brand awareness and user engagement leading to a sale. Audio ads are typically played as part of mobile phone radio networks, however, more agencies and advertisers are beginning to use audio ads in order to create an 'auditory impression' or signature tune. Audio ads cost significantly more than other ad types and are often combined with interstitials in order to maximize impressions. Despite their relatively higher cost, audio ads remain a popular choice of advertising for media-oriented apps. Audio ads are useful in reducing the time taken to deliver larger chunks of content to listeners.

E. In-App Alerts
An in-app alert is a form of advertising that helps track and understand user behaviour. An in-app ad may be part of an animated banner or text ad that elicits a binary ('yes' or 'no') response from a user. This response is used to load other ad units such as an in-app ad or direct the user to an external mobile website. Some in-app alerts point to an integrated ad that does not require the user to leave the app and is contextually relevant to the app's existing content.
F. Video Ads
Video advertising is one of the most expensive, yet engaging and rewarding advertising channels on mobile phones. Most smartphone devices possess the capabilities to stream and play HD ads while almost all devices are able to play SD video. Video permits a greater degree of creative control and content proliferation. Video ads are classified as linear or non-linear ads based on their position and behaviour in-app or pre-app display. Most video ads on mobile do not exceed 15-30 seconds whether pre-roll, mid-roll or post-roll.
Video ads are subject to several stringent specifications including .WMV, .AVI, .MOV, .MP4 and .3GP formats at 250kbps and 30fps. Mobile ads displayed have specific aesthetic and production guidelines that forbid the use of dizzying high-speed video, small text or rapid scene changes. Video ads may also be triggered by a 'click-to-video' link present on a web page, banner or interstitial ad.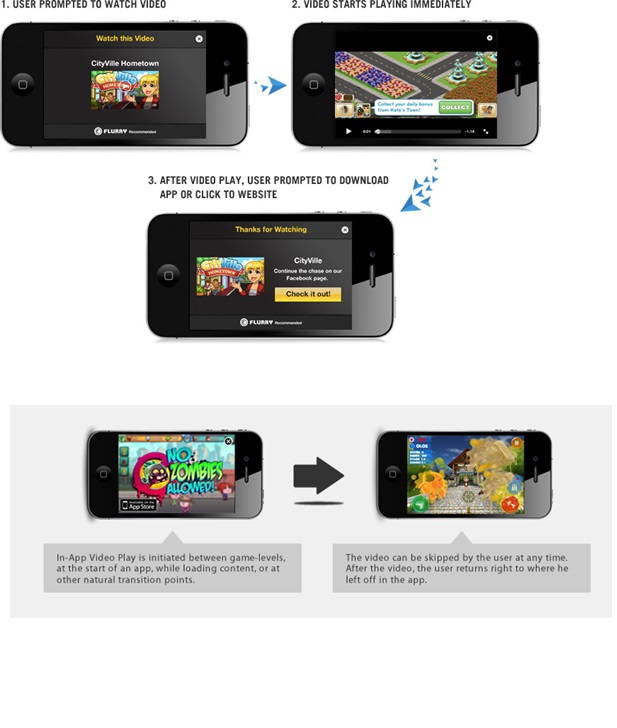 Video ads require stringent testing before they are delivered to ad networks because they depend on several variables including hardware capabilities and network bandwidth.
G. Capture Forms
The effective collection of consumer data through the use of capture forms is one of the most profitable ways to understand the behaviour of a large user base where no historical demographic data is available. Mobile data capture forms such as surveys and questionnaires that are related to the content being delivered help businesses understand, determine and respond to their target demographics.
Capture forms may also be enabled with an auto-fill function and can be delivered across a range of devices.


5. Why Monetize with Ads?
In a rapidly expanding mobile economy, large consumer enterprises rely on a complex network of cross-functional disciplines in order to predict and respond to consumer behaviour. While product quality and service turnaround time remain the key drivers to growth, advocacy and consumer-centric product and service offerings are rapidly increasing in relevance because of their ability to offer the end user an experience that is tailored to his or her specific needs and attuned to their behaviour.
The ability to analyse and create predictive inferences from big data allows advertisers, publishers and networks to tap into what products and services their customers want. The reality of mobile advertising is augmented by the exponential growth in mobile devices and the resultant increase in advertising and social traffic. Monetizing with ads is a logical step that is a function of the growth of:
• The global mobile advertising industry is poised to grow over six and a half times from its value in 2011 to reach $13.5 billion by 2013.
• App downloads are expected to increase five-fold to over 100 billion downloads.
• Global social media traffic is expected to increase nearly 150% in the next two years. This data is considered a baseline number with several analysts estimating significantly higher values.
In the face of such explosive growth, mobile advertising is expected to change the way people interact with media devices. As manufacturers and service providers seek to reach more customers around the world, the monetization of mobile advertising offers large-scale employment and consequent profitability to individuals, small businesses and large corporations.
6. Mobile Advertising Providers
A. iAds
iAds is the only mobile advertising platform designed to deliver content exclusively to iOS devices. Released in July 2010, iAds was the result of Apple acquiring mobile advertising provider Quattro Wireless.
Advantages
iAds is considered the 'benchmark' platform for iOS advertising with a complete workbench and a comprehensive set of tools to manage an advertising campaign. One of the biggest advantages of using iAds is that marketers can deliver content to any iOS device including MacTV, Apple TV, iPhone, iPad and iTunes Radio. However, the biggest advantage of iAds is that ads delivered through the platform open in-app without directing the user to a browser, making advertising far less intrusive and helps app developers earn up to 70% of the total ad revenue.
Disadvantages
One of the primary disadvantages of iAds is its low global coverage, iOS-only restrictions and smaller scope in comparison with Google's AdMob. Another inherent disadvantage is that most of its future-capable technology is still in development.

B. AdMob
Acquired by Google in May 2010, AdMob is a mobile advertising provider that offers multi-OS advertising solutions. AdMob also owns the popular advertising platform AdWhirl that enables users to manage advertising through multiple platforms. AdMob is currently the world's largest mobile advertising provider.
Advantages
AdMob enjoys the technological advantage of access to the immense infrastructure of its parent company, Google and is currently the market leader in mobile advertising with over 40 million ads served across devices and geographies. Riding on Google's strengths, AdMob works through some of the world's largest web-based advertisers and is ideal for 3rd Party app developers.
Disadvantages
Currently AdWhirl only supports iOS and Android operating systems and pays developers lower than iAds. Another important disadvantage is that AdMob is far from being a complete platform as Google has envisioned -- several components of the software continue to be in development, most likely in anticipation of changes geared toward competitive differentiation.

C. Flurry
Flurry is a mobile analytics and monetization platform that offers a free app analytics package catering to multi-tier businesses. Flurry works with over 115,000 clients helping them understand basic marketing metrics such as the number of users and the nature of their interactions with apps.
Advantages
As a free platform, Flurry is one of the largest and most successful of the analytic platforms that are ideal for low-complexity apps and campaigns focused on user acquisition. Flurry Appcircle has received positive reviews for its low cost/install ratio and economy in the long run.
Disadvantages
Flurry has often been criticized for its long turnaround times and inaccuracy at handling large volumes of data. One of the documented limitations is the platform's inability to measure the spread, advocacy and how viral an app has become.

D. Leadbolt
Leadbolt is an Australian mobile advertising network founded in 2010 and until recently, was considered the market leader in unlocking apps through a trademarked 'App Wall'. The company specializes in interstitial, content locks and several other non-conventional app types.
Advantages
Leadbolt's App Wall has been the firm's marquee offering, allowing advertisers to offer up ads on a range of apps in order to deliver competitively advantageous results. Targeted in-app video ads are another advantage of using Leadbolt. However, this advantage is gradually eroding as other networks catch up.
Disadvantages
Leadbolt has seen a gradual decline in performance and market share over the last year. Over time, several of the ad types once supported by Leadbolt---offer walls and full screen ads---appear to have been temporarily discontinued. The returns from using Leadbolt have also come under criticism in recent times.

E. AdsMobi
Described as a 'world-class mobile demand platform', Adsmobi is a subsidiary of Smaato, a world leader in real-time bidding ad exchanges for mobile platforms. Through Adsmobi, advertisers and clients can bid to place their ads in real time based on several criteria including demographics and other targeting criteria.
Advantages
The erstwhile AdsMobi offered a flexible system of optimizing mobile campaigns in real time. The company specializes in demand side platforms (DSPs) and real-time bidding (RTB). The use of DSPs is particularly relevant in today's mobile advertising economy when advertisers look to leverage multiple ad exchanges through a single interface that permits real-time bidding and user targeting. The concept of a browser delivering the 'winning' ad is based on a real-time bidding to numerous DSPs, one of the key drivers of the company's growth.
Disadvantages
AdsMobi has often been criticised and lionised for creating a disparity between publishers and app partners, often allowing those publishers with greater financial resources to win bids and thereby outperforming independent or low-budget publishers. However, this disadvantage has also been remedied and is used by several new publishers to 'break into' a lucrative RTB market.

F. InMobi
Founded in Bangalore, India in the year 2007, InMobi is an exciting startup that has claimed a place with Google's AdMob and other premier mobile advertising networks as a highly competitive platform provider. Funded by Kleiner Perkins Caufield & Byers and Sherpalo Ventures, the company has grown its capabilities and service offerings organically and inorganically by the acquisition of several companies over the last five years.
Advantages
InMobi's 100% revenue pass-through and acquisitions have seen the firm ramp up its advertising capabilities. The firm's analysis, app discovery, app distribution and rich media authoring platform have long been seen as the advantages that kept the company's offerings on par with several larger networks.
Disadvantages
InMobi's lack of ad campaign depth and longevity has been one of the chief criticisms levelled against the provider. The lack of a sustainable revenue stream and declining service levels have also been seen as significant drawbacks.

G. MobFox
MobFox is one of the world's leading independent advertising networks specializing in video and mobile display. Ranked as the largest mobile network provider in Europe, the firm offers direct SDK access to its publishers and offers over 20 million monthly ad impressions to its advertisers.
Advantages
MobFox has been appreciated for its high quality rich media and video advertising that work across a wide range of devices. The company is also known for its understanding of Europe-specific marketing practices and as an authority in mobile advertising for Europe with over 60% of its SDK interactions as direct integration.
Disadvantages
MobFox has been criticised for not displaying ads consistently across regions and some users have reported test and live 'bannerLoadFailed' errors. MobFox support for Android has declined over the years, with several advertisers and publishers defecting to AdMob.
7. How much revenue can you earn from Mobile Ads?
Mobile ads represent a significant revenue stream to small, medium and large businesses with over half of the developer community choosing to develop apps for tablets across all platforms. As a business owner, your objective is to generate revenue and mobile advertising is a tool to help you achieve the objective. When your app is ready for deployment, it is important to:
a. Budget: Understand the limits of the budget available to your campaign. This can help you choose the ad types that you need to target your target demographic.
b. Advertise: Integrating your advertising campaign with your app or an app that is relevant to your business can give you a head start on the road to monetization.
c. Engage: Rich media, well-designed interstitial ads and video can help you engage and connect with your target demographic.
d. Pitch: Mobile ads should lead potential customers to a direct sale or improve the likelihood of the sale.
e. Network: Ad network providers can help you purchase advertising space and mobile ad consultants can guide your business through the entire cycle of the marketing process.
The amount of money you can earn from mobile advertising depends on several direct factors such as the CPM, CLV and fill rate as well as indirect factors such as changes to customer demographic, hardware changes and network performance. Some of the factors that companies and advertisers measure include:
• Browsing time spent on the app
• Number of ad impressions
• Direct app revenue
• Number of subscriptions
Mobile advertising has grown exponentially and is set to cross $12.8 billion in 2013, creating lucrative opportunities for all entities involved in the mobile advertising value chain. Ad networks tend to pass on anything between 60% and 80% of app revenue directly to the developer or company. The current model of using eCPM will ensure that you can be paid amounts upwards of $1 for an app use of just 10 minutes a day and earn over 5 cents per download of your app.


8. How to Choose the Best Ad Network
Choosing the best ad network is usually a function of cost and capabilities. As advertisers vie for better ad placement and higher return on investment (ROI), there is a significant likelihood that an advertiser will shop around before settling on an ad network. The criteria that determine the choice of network are:
Platform
At minimum, an ad network should work on the platform (hardware/OS) where your ads will be targeted. Specialization and service diversity are two other aspects to be considered when choosing an ad network. For example, if a company's ads are designed for iOS apps and Android, they might achieve a higher ROI by choosing a network that specializes in iOS and Android app promotion rather than Windows for Mobile.
Detailed Reporting
Accurate data is at the heart of a high performance mobile advertising campaign. When choosing a mobile advertising network, it is critical to ensure that the network has detailed reporting capabilities. Robust reporting capabilities include being able to customize reports at campaign-level, group-level or ad-level. Typical reporting metrics include Click-through-rate (CTR), Impressions, CPC and overall cost.
Ad Types
Another important criterion to be considered when choosing a mobile ad network is the network's capabilities and strengths with the ad type you choose. Ideally, the mobile ad network should support as many ad types---including rich media, interstitials and video ads---as you require. However, if your campaign specializes in one type of ad, it may be favourable to choose a network that can deliver better results on that specific ad type for tablet-specific or mobile-specific formats.
Fill Rate
Fill rate is one of the best measures of the quality and relevance of the ads your campaign uses and the technical and non-technical issues that prevent an ad from being served. Networks that actively and aggressively track fill rates tend to present a higher return on investment than firms that ignore it completely.


9. Getting Started
Getting started with mobile advertising is not a complex process. However, sustaining a profitable mobile marketing campaign can be challenging. In a market that is bristling with competition, it is important to understand the measures of success that apply to the specific types of ads and campaigns your firm needs.
With Register a Mobile Network
Based on the criteria detailed in section 8.0---'How to Choose the Best Ad Network'---the first step is to sign up with a mobile ad network that possesses the specific capabilities that work with the device and platform combination that your ads are intended for at a satisfactory fill rate.
Configure what types of Ad you want to show in your App
The second step to getting started is to identify the ad types that will be served to your app based on several criteria. As a default setting, your app will serve ads intended for general audiences unless you specify any URL blocking, text filters, age-appropriate ads or ads in a specific language. Developers also receive additional capabilities that help test an ad and change multiple options including refresh rate and color schemes, as applicable.
Install the SDK
A software development kit (SDK) enables the creation and deployment of banner ads and other ad types in your app. Once the SDK is involved, the journey to the monetization of your ad can begin. The SDK enables publishers to deliver ads through the advertising network, enabling app promotion.
Monetization
Monetization is the final step and the objective of any mobile marketing campaign. Once your app is live and is downloaded onto a user's device, the cycle of impressions and sales commences. As ads are served and users click on them, directing them to an eventual sale, the revenue generated flo
ws through the network paying for itself and generating a profit margin for you while paying for itself along the way.


10. Summary
From concept to monetization, ad networks play a pivotal role in bringing developers, publishers, advertisers and end users together into a complex, but profitable value chain. As mobile technology grows in span and depth, the market for mobile advertising continues to grow, putting the products and services that customers need within their reach.